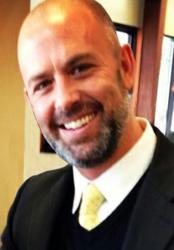 ej4 is the perfect place for me due to it's close, family-like environment and its forward thinking attitude towards training.
St. Louis, MO (PRWEB) June 11, 2013
Today, eLearning and performance improvement leader, ej4, welcomes Troy Prosser to the team as the Director of Sales, West Division.
In his new role, Prosser will work with organizations to exceed their financial and corporate goals through enhanced employee engagement and performance improvement by utilizing mobile ready video eLearning, rapid corporate communication development tools and easy to use solutions such as ej4's powerful new knowledge sharing and video development platform, Thinkzoom. Prosser will report to Rick Michael, Chief Marketing Officer, and is excited to bring ej4's "without a need, don't proceed" approach to the eLearning market on the west coast.
Prosser said, "ej4 is the perfect place for me due to its close, family-like environment and its forward thinking attitude towards training. I hope to bring a great work ethic and positive outlook to the market. I really am a positive person by nature and am always up for a new challenge."
Hailing originally from Indiana, Prosser studied Political Science and played hockey at Arizona State University. He's a family man, with extensive learning and development market experience, and has held previous consultative sales roles with Skillsoft and Wells Fargo.
ej4's CMO, Rick Michael said, "Troy is a wonderful addition to the ej4 team. He brings a solid business background, as well as a creativity and passion for organizational Performance Improvement."
To learn more about ej4, LLC and how they solve corporate communications, employee engagement and training related problems, please visit ej4.com. Sign up for a free 7-day trial to see a sample of ej4's custom and off-the-shelf eLearning courses.
About ej4, LLC
Simply stated, ej4 is performance improvement that works. As one of the largest eLearning and performance improvement consultant services organizations in the nation, ej4's performance improvement solutions include custom elearning, Thinkzoom - online knowledge sharing and video presentation development tool, off-the-shelf eLearning, book summaries, and consulting services. ej4 was founded in 2003, with offices in St. Louis, MO and Kansas City, MO.