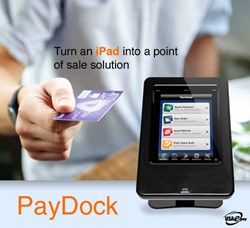 It not only enforces our ongoing commitment of service to our merchants and resellers, but will open whole new markets by allowing app developers to create POS products on our platform
Los Angeles, CA (PRWEB) June 12, 2013
USAepay, the industry's leading payment gateway and innovator of mobile payment technology is pleased to announce the introduction of PayDock as part of a strategic collaboration with PaymentGear.com.
PayDock advances the mobile point of sale experience for both merchants and customers. This is accomplished by combining the PaySaber swipe technology with a streamlined iPad enclosure design. The device is made of lightweight hardened polycarbonate with a 6 way mounting option, integrated power supply, and extensions for numerous peripheral items (barcode, receipt printing, cash drawers). This allows the device to function in numerous working environments, including: retail, nonprofit, restaurants, hospitals, hotels, and law enforcement.
Other iPad based POS solutions have hit the market recently, but PayDock ensures quite a few offerings that its competitors cannot; distinctively, the backing of USAePay's secure and scalable mobile API for third party app development. This single point of entry allows clients to focus on front-end development, while benefiting from an accelerated mobile cloud service, for either browser or native based apps, and passing off the burden of PCI Compliance on the Gateway. For the non-developer or small merchant, there are several off-the-shelf solutions through partnering SaaS (software as a service) providers utilizing the PaymentGear platform, including: ZingCheckout, POSLavu, ShopKeep, and GivingFire.
USAepay's Martin Drake, VP of Business Development says, "This product is an outstanding addition to our PaySaber family. It not only enforces our ongoing commitment of service to our merchants and resellers, but will open whole new markets by allowing app developers to create POS products on our platform, while benefiting from the security of our gateway and sophistication the of our integrated card present technology. We are glad to be collaborating with Payment Gear and foresee several new innovations coming out of this relationship."
Nathan Vorwerk, President of Payment Gear, states, "We are excited to be collaborating with USAePay on this product. Our aim is to provide the payment industry with disruptive technology that drives account acquisition. This product and many others is the beginning of what we hope to be a legacy of excellence to our resellers, developers, and merchants."
For more specs on the mobile point of sale kiosk go to: PaymentGear.com or PaySaber.com
About USA ePay:
Since 1998 USA ePay, a GorCorp Inc. company, has been helping merchants process their credit card and check transactions with speed and security. Founded by the Goretsky brothers, the company is family-owned and based in Los Angeles, CA. Currently the USA ePay gateway supports all of the major platforms (e.g. First Data, TSYS, Global, Paymentech) in the credit card industry and works with some of the leading check platforms. USA ePay is also pleased to work with many of the larger merchant service banks in the US and abroad. For more information, please visit http://www.usaepay.com or call 866.USA.EPAY (872-3729).
About PaymentGear:
Payment Gear Inc. is a culmination of several industry leaders coming together to provide unparalleled commerce solutions for a rapidly evolving market. The company was founded for the purpose of simplifying the merchant experience by bringing the three tiers of commerce under on hood: Hardware – Software – Payments. The company is based out of Seattle, Washington and partners with developers, acquirers, and merchants all over the United States. For more information please visit PaymentGear.com or email Info(at)PaymentGear(dot)com.