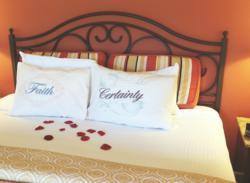 When you visualize and focus on something and sleep on it to make it manifest, that is what is called dream incubation
San Pedro, CA (PRWEB) June 12, 2013
A Pillow for Your Thoughts launches the Dream Kit, the latest innovation in dream incubation. A Pillow for Your Thoughts offers a new product that empowers individuals to start their night's sleep on a high-note by resting their heads on positive thoughts. Their custom pillowcases foster dream incubation and lucid dreaming simply by looking at them and focusing on an intention.
Founder Jane Castillo designed a line of 100% Cotton Sateen European-style pillowcases that serve as more than just great home décor. These pillowcases used as part of a sleep ritual can help strengthen dream incubation and lucid dreaming.
"When you visualize and focus on something and sleep on it to make it manifest, that is what is called dream incubation" explains Castillo. This technique has been researched and found to plant a positive seed in the mind. Clarity is achieved, and people often dream a solution to a problem. Creative breakthroughs are accessed in dreams as well as visualizing the success of a set intention. Thus, the pillowcases are a tool to help manifest one's intention, making one's dream incubation ritual a success.
These pillowcases serve a unique purpose, bringing bursts of positive energy to those who use them. A Pillow for Your Thoughts may sound like just pillowcases, but that couldn't be further from the truth; it's an experience that culminates in the Dream Kit. After working tirelessly with manufacturers here in the U.S., Castillo devised a way to get a better night's sleep and maintain a positive mindset with her Dream Kit.
The Dream Kit includes: A Pillow for Your Thoughts custom pillowcase featuring a unique affirmation design, an organic French lavender sachet, a keepsake affirmation card, a reusable designer sachets, and personal instructions for a wonderful new bedtime routine of inspiration. The Dream Kit offers an experience that can't be matched.
Castillo is on a mission to spread the word of manifested intentions with relaxation to the world. The mission starts with A Pillow for Your Thoughts.
A Pillow for Your Thoughts is a local, small business, founded by Jane Castillo in Southern California that helps individuals to thrive using the power of positive thinking and dreaming. For more information or to purchase a dream kit, visit http://www.apillowforyourthoughts.com.