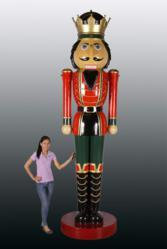 Our Nutcrackers are exclusively designed, fully detailed, colorful, expressive, and very beautiful
Amsterdam, NY (PRWEB) June 12, 2013
Christmas Night Inc., global retailer of nativity scenes and Christmas displays, announced the debut of their 12-foot Christmas Nutcracker King display. As their largest product to date, this decoration is sure to make a huge impression this holiday season.
Made of the most durable, chip resistant fiberglass construction typically used for manufacturing boats, this breathtaking 12-foot Nutcracker is ideal for large spaces including estate houses, bank halls and hotel lobbies. Designed for both indoor and outdoor use, these Nutcrackers are painted in sunlight resistant paint and built to last for years to come.
"Our Nutcrackers are exclusively designed, fully detailed, colorful, expressive, and very beautiful," said Claire Henderson, co-owner of Christmas Night Inc. "Manufactured in the Philippines, the 12-foot Nutcrackers are then shipped by ocean container to our warehouse in New York."
Christmas Night Inc. anticipates that large retailers, shopping malls and cities will use the 12-foot Nutcracker for their Christmas displays. However, these Nutcrackers are suitable for both commercial and residential use.
This massive 12-foot Nutcracker King is now available for purchase online at http://www.christmasnightinc.com/c123/Huge-Nutcracker-King-12-ft-H-p1689.html, or by calling 1-888-900-2070.
About Christmas Night Inc.
Claire and Don Henderson opened Christmas Night Inc. in 1999, to fill a consumer need for complete nativity sets, holy families and large outdoor Christmas figures, including Santa, snowmen, toy soldiers, and nutcrackers. Located in Amsterdam, NY, Christmas Night Inc. is pleased to provide these seasonal items to those who celebrate and enjoy the spirit of Christmas.