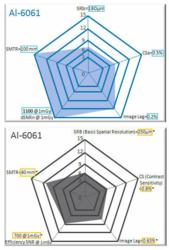 We are glad to see that tests conducted by such a prestigious laboratory as BAM have confirmed what we always knew – that Vidisco's portable digital X-ray systems are of superior quality.
(PRWEB) June 12, 2013
The RayzorX Pro, Vidisco's most popular portable digital X-ray system, achieved outstanding results in recent tests conducted by BAM, a reputable external laboratory based in Germany, according to the definitions of the ASTM E2597-07 standard. The tests were conducted for an X-ray of an aluminum plate (AL-6061) according to the standard conditions.
Five parameters were used to test Vidisco's RayzorX Pro digital X-ray system: Basic Spatial Resolution (SRb), Detector Signal to Noise Ratio – Normalized (dSNRn)/ Efficiency (dSNRn), Achievable Contrast Sensitivity (CSa), Specific Material Thickness Range (SMTR) and Image Lag. In all five categories, the RayzorX Pro got excellent results. The results can be seen visually in the coverage of the pentagon shaped "Spider" diagram. The Spider specifically indicates the exceptional imaging quality of the Vidisco system according to the above mentioned specifications.
In all of the five parameters, the RayzorX Pro achieved results that are superior to those of the competition, as is seen in the other Spider diagram (Vidisco RayzorX Pro results are presented on the left in blue). In the dSNRn @ 1mGy parameter, Vidisco's RayzorX Pro system achieved the result of 1100 @ 1mGy, which exceeds the standards maximum of 1000.
The results indicate that there are significant and unique technological advantages embodied in the RayzorX Pro DDA. Adar Yiron, Vidisco's VP Sales and Marketing, "At Vidisco, we put the outmost care and consideration in developing our products. We are glad to see that tests conducted by such a prestigious laboratory as BAM have confirmed what we always knew – that Vidisco's portable digital X-ray systems are of superior quality. Now we can proudly claim, with authority, that the RayzorX Pro, the thinnest imager in the world, produces images of exceptional quality!"