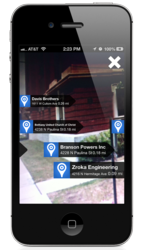 This is a very cool app - Dries Buytaert
Chicago, IL (PRWEB) June 13, 2013
Promet Source debuted its new PRAugmented Reality Suite at DrupalCon 2013 in Portland, OR, on May 21, where the innovative framework generated immediate interest among developers and industry media.
The Chicago-based Drupal development firm created its AR suite in response to the growing demand for Augmented Reality (AR) in application development. Its innovative PRAugmented Reality Suite is designed to help iOS and Drupal developers increase their productivity and facilitate workflow when involved in AR development.
The new Suite currently provides two major tools:
1. PRAugmentedReality iOS Framework
2. PRAugmentedReality Mobile AugmentedReality, a Drupal 7 module
First, the iOS Framework is an easy-to-use AR development library, providing developers with a variety of time- and labor-saving features, including:
+ Out-of-the-box AR View
+ Customizable AR Overlays
Promet has used the framework in developing their CTAR application, currently available in the iTunes store. CTAR uses Augmented Reality to display real time Chicago Transit Authority rail and bus information to iPhone users.
The iOS Framework is compatible with iOS 5 and later.
The Suite's second tool is Promet's Mobile AugmentedReality, a Drupal 7 module, which was recently released to Drupal.org for distribution to the open source community. Mobile AugmentedReality is a custom resource for use in mobile applications, streamlining a user's data request into three simple steps:
+ Discovers relevant data on a Drupal site, which is typically data containing geolocation or similar specified data
+ Filters the data through specified fields
+ Sends the results to an AR app loaded on the user's mobile device
"By releasing our Augmented Reality framework under the GPL license we bring a new level of collaboration to the augmented reality space, said Andrew Kurchaski, CEO of Promet Source. "It's not just a disruption to the closed systems model, it's encouraging innovation."
Used together or separately, the tools that comprise Promet Source's PRAugmentedReality Suite provide a solid foundation for developers who are exploring AR applications or who are already involved in ongoing projects, especially for the social media, lifestyle, tourism, arts and entertainment, and fitness industries.
An example app that demonstrates how these two pieces fit together is available for developers as well. This app, titled PRAR-Example-xcodeproj demonstrates:
+ Simple and efficient drag-and-drop storage for AR objects utiziling a SQLite database
+ A practical communication system that includes a Drupal module for easy site content creation and retrieval
+ Custom map pin annotation
About Promet Source: Promet Source is a leading technology firm, focusing on Drupal and open source that delivers high-value web and mobile application development and support. Our consultants have deep technical expertise and are active in the open source community leveraging the agile approach to software development. Promet serves clients globally and specializes in government, higher education, non-profits, start ups, healthcare and professional services. They can be found on the web at http://www.prometsource.com
For Additional Information: Visit http://praugmentedreality.com
Contact:
Andy Kucharski, Promet Source
andy(at)promethost(dot)com