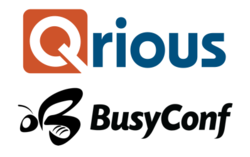 By definition, conferences and trade shows are real-time events and now, so is the information about them. Integration with BusyConf will help us provide information services that move as quickly as your event does.
New York, NY and Leesburg, VA (PRWEB) June 13, 2013
Qrious ("curious") - a provider of event technology that helps streamline the workflows of event organizers, sponsors and exhibitors - and BusyConf - a provider of conference workflows that help planners manage their speakers, scheduling, registration and ticket sales - have announced a unique end-to-end technology partnership.
The partnership's first successful event was #ChefConf, produced by Opscode, in April 2013.
"As a conference attendee, I've always enjoyed the BusyConf experience. When planning began for #ChefConf 2013, BusyConf was the clear choice for managing the CFP, attendee registration, and conference scheduling. We needed a badge printing and lead retrieval system that provided a similarly enjoyable experience," said Nathen Harvey, Technical Community Manager of Opscode and #ChefConf 2013 Program Chair. "The integration between BusyConf and Qrious proved to be awesome! Each tool is laser-focused on its particular portion of the event management process and the seamless integration made for simple attendee management and a great organizer workflow."
The BusyConf software platform handles four major pieces of conference planning: (1) collection, review, and approval of speaker proposals; (2) attendee registration and payment processing; (3) agenda/schedule creation, and (4) publishing the event schedule to the web and mobile devices.
Once proposals are collected, planners can collaborate to review and approve speakers, and then seamlessly transition to using the approved proposals to build out the conference schedule. With a mouse click, the schedule can be published and instantly viewable online and on mobile devices.
Throughout this process, attendees can register and pay for the conference using BusyConf's payment gateway, sparing conference planners the hassle of setting up their own merchant account to accept online payments. Organizers can keep track of all the BusyConf activity and incoming financials from one unified interface.
The Qrious software platform integrates with the Ticketing and Registration components of BusyConf and handles three major workflows of modern conference production: (1) creation of custom-designed, uniquely-coded name badges, segmented by ticket type (attendee, speaker, sponsors, exhibitor, etc.), (2) Real-Time, Smartphone-based Lead Retrieval for sponsors and exhibitors and (3) Attendance Tracking - particularly helpful for organizers of multi-track conferences.
Information about all event participants is updated on the Qrious platform in real-time, enabling fast and easy on-site registration, badging and analytics.
This unique, unified solution from BusyConf and Qrious is provided as an on-demand service to conferences of any size using the web, cloud services and smartphones without the need to purchase or rent special hardware or software.
"We're really excited to have Qrious as our first partner to integrate with our real-time API," said Ryan McGeary, CEO and Founder of BusyConf. "Keeping data in sync across services is something that really matters to conference organizers and the integration provides instant synchronization between our two platforms."
"By definition, conferences and trade shows are real-time events and now, so is the information about them," said John Federico, CEO and Co-Founder of Qrious. "Integration with BusyConf will help us provide information services that move as quickly as your event does."
The integrated services are available immediately to all conference and trade show producers.
About Qrious
Qrious manages the information that makes conferences and trade shows - of all sizes - work. Integrating with the world's most popular event registration systems, Qrious streamlines the production of Smart Name Badges enabling real-time data services like Networked Lead Retrieval, Attendance Tracking and Analytics.
Founded in 2011, Qrious has been helping event organizers streamline their workflows and add value to their sponsorships since January 2012. Customers include 10gen (The MongoDB Company), Dynamic Communities (Microsoft Dynamics), Developer Week, The Small Business Summit, and others.
About BusyConf
BusyConf is a software company focused on tackling the common problems that conference planners face when organizing an event. BusyConf takes the pain out of conference planning, scheduling, and ticket registration by combining an intuitive user interface with advanced web and mobile technologies.
Founded in 2010, the BusyConf platform has been used to plan, organize and execute over 65 conferences which supported over 25,000 attendees and collected over $1,000,000 in attendee fees.
Media Contacts
John Federico
CEO and Co-Founder
(646) 741-4776
john(at)qrio(dot)us
http://qriousapp.com
Ryan McGeary
CEO and Founder
(571) 989-2879
ryan(at)busyconf(dot)com
http://busyconf.com