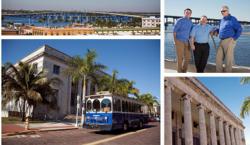 We wanted our clients and prospective clients to be able to find important information easily
Ft. Myers, FL (PRWEB) June 12, 2013
It may be a truism that all politics is local. But according to Ft. Myers attorney Scot D. Goldberg, a legal practice is best when it's local, too – and with the launch of the new Goldberg, Racila, D'Alessandro & Noone website, announced today, Goldberg Law now has a powerful tool for getting local people the help they need.
Attorney Goldberg, who is managing partner of the firm, sees firsthand how the work that the firm does touches peoples' lives in a positive manner – and also sees that sometimes what people need more than anything else is the right kind of information to make informed decisions, which became a key theme of the new website.
"We wanted our clients and prospective clients to be able to find important information easily," said Goldberg. "Our blog provides regular updates about legal issues in the news, and the new design provides a streamlined way for people to obtain useful information about legal topics that can affect their daily lives."
David Dewhirst, co-founder of ThreeTwelve Creative, the Ft. Myers web design and development company who built the website, was happy that ThreeTwelve was able to meet and exceed the needs of Goldberg Law. "We designed the site and its content so that local people – indeed, anyone interested in legal matters -- would have a valuable resource. At the same time, we also had to make it easy for people reach the firm when they have legal questions or needs that perhaps exceed just information," said Dewhirst. "It's a pleasure working with Scot and the entire Goldberg Law family, and we're proud of the part we've been able to play in helping them accomplish their mission."
The new Goldberg Law website is live at http://www.goldberg-law.com.
About Goldberg Law
Goldberg, Racila, D'Alessandro & Noone was founded with a vision of providing full service to the Southwest Florida community in several areas of law, including personal injury, wrongful death, medical malpractice, criminal defense, and family law. Since opening their doors in 2000, the firm has negotiated many cases to successful resolution and has gone to trial on numerous cases in which favorable verdicts were obtained. They have served the public through their pro bono work, are involved in several charity organizations, and their attorneys serve on various local community service programs' board of directors.
About ThreeTwelve Creative
ThreeTwelve Creative, LLC is a web design, software development and digital marketing company based in Ft. Myers, Florida. With clients around the world, ThreeTwelve Creative brings years of design, development and marketing experience to the table in everything they do. They are also very good looking, and sometimes quirky. To see how ThreeTwelve Creative helps clients with their Complete Online Presence, drop by http://threetwelvecreative.com or email them at creative(at)threetwelvecreative(dot)com.