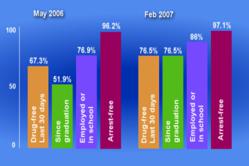 The outcome monitoring system is a good deal more than just tracking outcomes. It also includes creating a specific discharge plan and a strong after-care program
(PRWEB) June 12, 2013
It has long been Narconon drug rehabilitation center policy that its staff maintain regular follow-up contact with graduates who return to their communities in order to assist them in applying the life skills learned during Narconon study. Such follow-up monitoring is rarely implemented in drug treatment settings, however, because of several reasons, one of which might be that follow-up instruments are very long and require substantial staff resources.
But for six years and more now, Narconon Arrowhead and some other Narconon rehab centers have gone beyond a general "follow-up" to implement a standardized procedure with program graduates. It is called Routine Outcome Monitoring. What is it and where did it come from?
SAMHSA and CSAT have been advocating for rehab graduate follow-up.
For two decades the Substance Abuse and Mental Health Services Administration (SAMHSA) has advocated monitoring graduates as an important component of treatment quality management and results-oriented performance. It is mentioned in both the Government Performance Results (GPRA) Act of 1993 and the GPRA Modernization Act of 2010.
The Center for Substance Abuse Treatment has detailed a number of 'core client outcome measures' and even recommended a specific instrument or data collection tool: "...Outcome measures include substance use, criminal activity, mental and physical health, family and living conditions, education/employment status and social connectedness."
The survey instrument that Narconon uses and its standardized 'routine outcome monitoring' procedure (ROM) were developed by outside research scientists based on the recommended CSAT / GPRA survey form. Its use was briefly studied in a pilot program at Narconon Arrowhead's facilities and then presented at the March 2006 Joint Meeting on Adolescent Treatment Effectiveness Conference (JMATE). 
2006 and 2007 Narconon Arrowhead Routine Outcome Monitoring Survey Results
Two Summary Analyses were prepared by the Foundation for Advancements of Science and Education (FASE) for Narconon International, written for general public (non-technical language.) These two Routine Outcome Monitoring reports summarize Narconon Arrowhead graduate outcomes for the six months prior to May 2006 and February 2007.
May 2006: Narconon Arrowhead staff contacted 80% of the 65 students who graduated between 7 and 8 months before the survey date.
Of these, for the last 30 days, 67.3% were reported completely drug-free including no alcohol use. An additional 15.4% had used no drug except social alcohol (that is, not drinking to intoxication.)
51.9% reported drug and alcohol free since graduating.
76.9% were gainfully employed or enrolled in school full time.
2 graduates had new arrests and spent time in jail, that is, 96.2% arrest-free, and 2 others were completing pre-Narconon program legal obligations.
Feb 2007: Arrowhead staff contacted 95% of the 37 students who graduated six-plus months prior to the report period.
For the last 30 days 76.5% reported completely drug-free. 8.8% had used no drug other than social alcohol.
76.5% reported drug and alcohol free since graduating. 
86% of the graduates were gainfully employed and/or enrolled full time in school.
1 graduate spent time in jail -- he reported that he turned himself in to comply with parole violations when he used an illegal drug after Narconon. He had stayed drug free after that. Therefore, the percentage arrest-free since graduation for the 2007 survey group was 97.1%
Not included in either survey were graduates who stayed on at Narconon Arrowhead to train or intern, although these would have raised the percentages.
ROM surveying of graduates may improve program quality
In addition to the positiveness of the results, another interesting point is that the application of this Routine Outcome Monitoring procedure may indeed be having a positive effect on Narconon program quality management, as the statistics improved across the board from the earlier to the later survey.
Narconon International spoke with Gary Smith, Narconon Arrowhead Executive Director, about this ROM survey procedure. "The outcome monitoring system," Smith said, "is a good deal more than just tracking outcomes. It also includes creating a specific discharge plan and a strong after-care program. Our staff are in regular contact with individuals, finding out how they each are doing implementing their individual plans." Asked how using ROM surveying feedbacks to Narconon program delivery, Smith added, "Routine Outcome Monitoring puts your entire organization's 'eye on the ball' -- ensuring that students' needs are getting met. We have seen that it makes a difference." 
The newly researched and implemented Narconon Routine Outcome Monitoring survey questionnaire contains 18 common outcome measures, recommended by CSAT and SAMHSA.
Data is collected either directly from the student or a close relative. The Arrowhead pilot study determined that both sources give valid and consistent answers.
ROM follow-up boosts outcomes, says Director of Success
Six months post-graduation is the CSAT-recommended data collection point. They also recommended to survey regarding "the last 30 days." At Narconon Arrowhead graduates are called on a regular basis before the formal end of the outcome study, as part of Narconon after-care. Another Narconon Arrowhead staff member who does follow-up with graduates said, "We are in communication with every recent graduate. The parents love it. We find that the graduates are using the methodology they learned, applying it to their lives. If they do start to fall back, with these calls they come out of it quicker and return to battery." The ROM follow-up calls are "the best thing to boost outcomes," she emphasized.
Not only Narconon Arrowhead but other Narconon rehab centers are utilizing the Routine Outcome Monitoring procedure. It is helping Narconon staff to deliver an improved quality of service and is demonstrating improved statistical results. The purpose, says Smith, is to save more lives and improve the quality of recovery result.
Both of the outcome reports above are posted on Narconon International's homepage -- http://www.narconon.org under "40 Years Evidence of Results" along with the recent full compilation of 23 studies from the last 40 years of Narconon drug rehab service. 
For more information on Narconon Arrowhead, please visit http://www.narcononarrowhead.org
Narconon International is interested to share the success of this graduate monitoring procedure with other drug rehab centers. Those interested in Routine Outcome Monitoring should contact Clark Carr, President Narconon International at president(at)narconon(dot)org.
Clark Carr
President, Narconon International
Source References:
Narconon Arrowhead ROM Summary Analysis
http://www.doleta.gov/performance/goals/gpra.cfm
http://www.samhsa.gov/grants/CSAT-GPRA/index.aspx
http://www.narconon.org/about-narconon/40-years-evidence-recovery.html