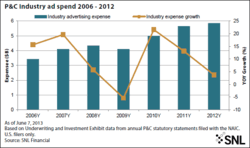 Charlotteville, VA (PRWEB) June 13, 2013
According to SNL Insurance's latest report: Allstate's ad spend increased 14.8% year over year to $828.8 million, while State Farm reduced its advertising expense 4.4% from the year before to $777.9 million...
Excerpt:
Much of the advertising spending has gone into re-branding Esurance as "Insurance for the Modern World" while associating Esurance with the long-developed Allstate name. Despite a combined ratio well over 100% on its Esurance business, Allstate is pleased with the acquisition and the investment the company has made to advertise the Esurance brand, Allstate Financial President and CEO Don Civgin explained on the company's fourth-quarter conference call.
Excerpt:
The chart shows an apparent divide on advertising strategies among the largest insurers. Several companies continued to increase their ad spend much as they have done in previous years. In addition to Allstate, GEICO, United Services Automobile Association, Nationwide Mutual Insurance Co., Liberty Mutual Holding Co. Inc., American International Group Inc. and Amica Mutual Insurance Co. all recorded year-over-year increases in excess of 10%.
Keep reading the full report and analysis here: http://www.snl.com/InteractiveX/Article.aspx?cdid=A-17941782-11308