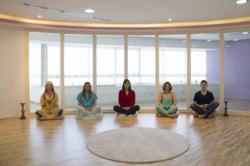 To transform life, simply change beliefs.
Dubai (PRWEB) June 13, 2013
Dubai-based holistic well-being center, Illuminations, now offers mind related work through Hypnotherapy; energy related therapy through different healing modalities; and physical body therapy with Naturopathy.
Mind Related Work Through Hypnotherapy
Thoughts create reality, and those who have experienced the power of the human mind and tapped into its potential can vouch for it. To transform life, simply change beliefs.
One's behavior patterns are governed by the beliefs formed from through past experiences. These experiences are then stored in the subconscious mind, through positive and negative associations. The subconscious mind is 6,000 times more powerful than the conscious mind, and therefore influences what thoughts, emotions and actions one has.
The purpose of hypnotherapy is to facilitate a process in which individuals release unwanted habits and negative patterns, and create positive associations. The therapist gently guides the client to reduce his conscious faculties in order to trigger the body's powerful mental and physical self-healing processes that lie in the subconscious.
They are then able to align their mind power with what it is they desire, and the power to manifest it remains within.
Hypnotherapy works with a hypnotic trance, which is a state of "focused concentration" in which the client is neither fully awake nor fully asleep. It is similar to a meditative state and is completely safe and natural. Contrary to the fear that people have about losing control in hypnosis, it is actually a heightened state of awareness in which the client is always in control.
Energy Related Therapy Through Different Healing Modalities
At the core of all matter lies energy, and the human body is no different. The energy body is a template for the physical body and therefore any change in the energy body directly affects the physical body/reality.
Energy Healing works on the principle that everything is made of energy. The levels of energy one operates from directly correspond with the way they think and feel. Therefore, this energy influences and governs the functioning of the inner and outer selves.
Through healing and balancing these energies, one is able to experience a sense of spiritual cleansing where miraculous results are experienced on the mental, emotional and even physical levels.
Healing The Physical Body With Naturopathy
Doctors estimate that many of the diseases people suffer from are a result of stress, which is triggered by imbalanced thought processes in the mind. If this imbalance is left untreated, it will eventually manifest as an illness in the physical body.
The good news is that pain can sometimes be positive. It is the body's way of communicating to pay attention inwards now, so that the pain can be released and one can go back to being in integrity with perfect health.
Illuminations now offers a wide range of complementary approaches, which focus on resolving common physical body issues such as high blood pressure, indigestion, diabetes, skin problems, hair loss, headaches, back pains, weight problems, hormonal issues and cervical spondalitis.
Complementary or alternative approaches to treatment, means that it treats the person as a whole—body, mind and energy—as opposed to only on the physical body. Common therapies include acupressure, magnetic therapy, Quantum Magnetic Analyzer Testing, Cupping Therapy, Psionic Therapy, Polarity Therapy , Reflexology, Reiki, Sujok, Japanese Facial Massage and Twist Therapy.
To learn more about when these therapies are available, please send your full name, mobile and email ID to info(at)illuminationsworld(dot)com or call 04 448 7043.
Illuminations is a Dubai-based holistic well-being center located in Jumeirah Lake Towers. The center was founded by Soniyaa Kiran Punjabi, with the intent of inspiring individuals towards a journey of self-discovery as a key to lasting happiness. The center offers a variety of services based on a holistic approach to self-development with the intention to provide a deeper insight into the mind-body-energy connection influencing the experience of life.