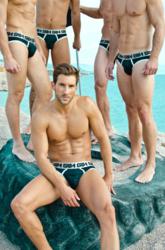 We have been able to connect with our customers from day one as well as with some high profile celebrities and media outlets.
New York, NY (PRWEB) June 19, 2013
With over two-hundred thousand units sold and a social media following totalling a whopping 100,000 fans in the first six months since opening their doors, Garçon Model, a brand new, high-end underwear brand from Canada, has been making a big splash online and because of that, in fashion as well. Boasting an impressive roster of followers on Twitter and Facebook, this new Canadian company, that some already call the "Canadian Calvin Klein", is a solid sign of a healthy start-up. So what's their secret? Is social media to thank, or great product, or both?
"Social media has been a fantastic tool for us," says Mehdi Mebarki, the CEO and founder of Garçon Model. "We have been bonding since day one with our core audience." Their social media influence has helped catapult the brand into some fantastic opportunities including New York City's Fashion Week and collaborations with fashion designers; their designs have been photographed by many, including celebrity photographer Mike Ruiz for his Pretty Masculine app, and their styles have been seen in numerous prestigious publications as a result.
"We can definitely say that we owe most of our success and media buzz to social media. We have been able to connect with our customers from day one as well as with some high profile celebrities and media outlets. " Mebarki says.
Garçon Model has a masculine yet sexy aesthetic that has begun to strike a chord in the consumer's eyes. It also doesn't hurt that their actual product is made and refined with precision, which big industry players have taken note of. Fab.com, Banglads, Men's Health, Harper's Bazaar, DNA magazine, Rue Lala and we, here at The Underwear Expert, have all recognized Garçon Model's potential.
You'll be seeing a lot more of the new brand too. When asked about the future, Mebarki responded, "We are currently in talks with high-end department stores and retail chains in the US, Canada and France." That doesn't mean they're throwing their attention anywhere but their social media strategy, however.
"Our main focus is not to lose contact with our audience and develop our brand in their eyes as our ultimate success comes from them." Mebarki adds. "People say that social media doesn't rhyme with economic success, but that was definitely not our experience." Mebarki points to social media as key to his successful first months: "Our products are really in high demand, and this is all thanks to our online community!"
Follow Garçon Model on Twitter, Facebook, Google + , Instagram and Youtube.
Written by The Underwear Expert:
 
Founded in January 2012 by industry executive Michael Kleinmann, The Underwear Expert is transforming and streamlining the way consumers and industry professionals access information about the men's underwear industry.
The Underwear Expert features exclusive content from over 240 men's underwear brands around the world (HOM, Jockey, Under Armour, Aussie Bum, Calvin Klein, Armani, 2(X)ist, le Slip Français, CIN2...), exclusive interviews, videos, model photos, product reviews, new arrivals, news, trend stories, and ongoing commentary on the industry.