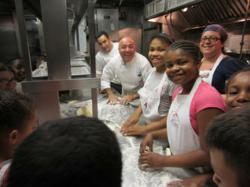 I believe that making food fun is the key to getting kids involved in the kitchen.
Washington, DC (PRWEB) June 17, 2013
Kids love to cook and Chef Luigi Diotaiuti loves to teach them how. He regularly works with students from Washington DC's Hyde-Addison Elementary School to create simple, yet delicious meals, whether in his restaurant kitchen or the school cafeteria. By understanding the basics of following a recipe, children develop math and comprehension skills, not to mention creativity. They also develop an appreciation for what they are eating and have fun doing it.
"I believe that making food fun is the key to getting kids involved in the kitchen," says Chef Luigi. "When children from Hyde-Addison Elementary come to Al Tiramisu, I give them the ingredients to construct a happy face out of tomatoes, mozzarella, radishes, and olives, and let them have fun creating their own salads. You'd be amazed at how popular vegetables can become for children when you transform them from a boring ingredient into edible art!"
This summer, Chef Luigi encourages kids to come into the kitchen and cook with these easy and delicious recipes, perfect for a light, warm weather meal.
"Happy" Caprese Salad/Insalata Caprese "Felice"
Serves: 4
I like to serve this salad with little olive "rabbits" and radish "mice."
Ingredients:
1 large, ripe tomato, sliced into 4 rounds
1 (4 ounce) ball fresh mozzarella, sliced into 8, 1-inch rounds
1 radish, sliced into 8 thin rounds
2 olives, pitted and sliced into quarters
4 basil sprigs
4 cups mixed field greens, washed and dried
4 tablespoons extra virgin olive oil
Balsamic vinegar
Salt
Pepper
Preparation:
Place 1 tomato slice on a salad plate. This forms the "face." Top with a 2 mozzarella slices to form eyes. Use 2 radish slices to make eye balls on the mozzarella. Place 2 olive pieces in the center of the radishes to make pupils.
Use 1 piece of basil to make nose or mouth.
Arrange mixed field greens around the face on the plate. Drizzle with 1 tablespoon olive oil, and balsamic vinegar, salt, and pepper to taste.
Repeat with remaining ingredients to make four salads.
Bow-tie Pasta with Arugula Pesto/ Farfalle con Pesto di Rucola
Serves 4
Bow-tie pasta is called farfalle, or "butterflies" in Italian. I love them so much that I use them as buttons on my chef coat! Kids always get a kick out of them! Although this delicious and healthful sauce can be made in a few minutes and used right away, it tastes even better if made a day or more in advance. This ensures that the flavors and consistency will become more intense. To store, place the pesto in a plastic container, top it with a layer of olive oil and cover. Refrigerate and use within a week. Stir the pesto before using it on spaghetti, potatoes, bread, as a dip for vegetables, or topping for grilled fish. This recipe has a fresher, more peppery flavor than the traditional basil pesto.
Ingredients:
4 cups arugula
1/3 cup toasted pine nuts
1 cup extra-virgin olive oil
2 tablespoons fresh lemon juice
Salt, to taste
1 pound box bow-tie pasta, cooked until al dente
Preparation
In a blender or food processor, combine arugula, pine nuts, olive oil and lemon juice. Puree until the mixture becomes a very fine paste. Taste; add salt, if necessary.
Place pasta in a large bowl and toss with sauce to combine.
Serve warm or at room temperature.
RECIPES MAY BE REPRINTED WITH THE FOLLOWING CREDIT:
Copyright Luigi Diotaiuti, 2013, reprinted with permission
To watch a video of Chef Luigi's recent class at Hyde-Addison Elementary School, click here.
ABOUT CHEF LUIGI DIOTAIUTI
Award-winning chef, certified Sommelier and restaurateur, Luigi Diotaiuti, is a world-renown authority on Italian cooking and living. Born on a farm near Lagonegro, in the mountains of southern Italy, Chef Luigi has made it his life's work to bring the passion and joy of Italian cuisine to everyone he has cooked for.
When he is not cooking for celebrities and dignitaries like Italian Prime Minister Mario Monti, Secretary of State Hillary Clinton, and actor George Clooney, Chef Luigi makes frequent appearances on US and Italian television and has been featured in countless print media articles. A born educator, he currently conducts regional Italian cooking and wine –pairing classes at Al Tiramisu, and regularly conducts cooking classes with the students from Washington DC's Hyde-Addison Elementary School. Chef Luigi is in the process of publishing his first cookbook, to be out later this year. He lives in Washington, DC.
ABOUT AL TIRAMISU
Dining at Al Tiramisu restaurant, located in the heart of Washington, DC, is like taking a trip to Italy without leaving the country. The restaurant has been hailed as the most authentic Italian restaurant in the nation's capital. Chef and owner Luigi Diotaiuti, prepares classic seasonal dishes that smell good, look great and make you feel like you are back in Italy. The award-winning restaurant is cozy, warm, and joyful—reflecting the effervescent and playful personality of Chef Luigi. Witness the Jester logo, Al Tiramisu's name (translation "cheer me up"), the welcoming "buona sera" greeting when entering the restaurant. "Al Tiramisu is my life—it's who I am," smiles Chef Luigi whose delightful Italian accent and charm sets the tone. "I want people to have great food AND a great time. When people leave happy, I know that what I'm doing in life touches people." He proudly keeps a huge scrapbook of handwritten notes from happy customers. The restaurant has been chosen by The Washington Post as one of their "best bets," featured in numerous blogs such as FamousDC.com, and is the recipient of the Regione Basilicata "Sapori Lucani" Award, granted to restaurants and chefs best representing the culinary arts of the Basilicata region of Southern Italy.
To learn more about Chef Luigi Diotaiuti and Al Tiramisu restaurant, go to: http://www.AlTiramisu.com.