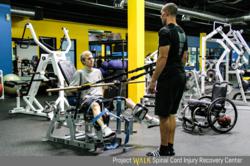 Give Project Walk a chance, take a tour, do a workout. It is different from any other therapy you have experienced.
Carlsbad, CA (PRWEB) June 13, 2013
Cory Hahn was on his way to stardom as he had just began his baseball career at Arizona State University. His achievements and accolades were already well documented through his illustrious high school baseball career in California. A few games into his freshman season he suffered a tragic on field accident that left him to face life with a C5 spinal cord injury. Through hard work and dedication, Cory has overcome many obstacles and on June 9 he received a phone call notifying him that his hard work had paid off. The Arizona Diamondbacks had selected Cory in the 34th round of the Major League Baseball draft.
Similar to his approach with baseball Cory has battled back from his injury through consistent training sessions at Project Walk Spinal Cord Injury Recovery Center. When Cory started at Project Walk, he had little to no function below his level of injury. He could barely remain sitting up on his own and had very limited use of his upper extremities. Cory now faced new challenges much greater than hitting a major league curve ball. He now had to recover from a spinal cord injury, something that would take many painstaking hours of training and determination.
It has been nearly two years since Cory began his training sessions at Project Walk and his progress is an inspiration to anyone affected by a spinal cord injury. Cory can now sit up unassisted, perform bridge exercises and most importantly he has gained enough independence to return to school at Arizona State.
"Project Walk is definitely a special place," says Cory. "It's different than any other therapy. Everyone here knows what you have been through. The Specialists support you and push you; they are dedicated to you and your goals. You look forward to coming every day and between the Specialist and the environment, you are excited to be here!"
Spinal cord injuries affect more than 1 million US citizens and the need for aggressive, alternate forms of recovery are key to promoting independence and improving quality of life. At Project Walk headquarters in Carlsbad CA, Cory found the Dardzinski Method® and the resources to give him a chance at life beyond a wheelchair. Project Walk, the world leader in spinal cord injury recovery, provides an improved quality of life for people with a spinal cord injury through intense activity-based recovery programs, education, training, research and development.
Cory's determination and resilience have surely been rewarded this past weekend. He is not alone in his recovery and through Project Walk's program; there are options for those facing the same difficult road to recovery. Cory continues his path and encourages others to "Give Project Walk a chance, take a tour, do a workout. It is different from any other therapy you have experienced."