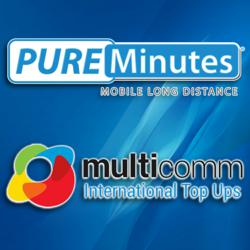 ... we are able to reach out to more consumers who will be able to experience the Pure Minutes signature brand of affordable and high-quality international calling they deserve
Los Angeles, CA (PRWEB) June 13, 2013
Pure Minutes and MultiComm are proud to announce a partnership that unites affordable international calling solutions with one of the world's most trusted international electronic recharge companies. This strategic alliance helps connect Pure Minutes with the large customer network seeking long-distance and cellular telephone solutions behind MultiComm International Top Up.
Originally founded in 2007, California-based MultiComm has been recognized for its dedication to the areas of check cashing, money transfers, money order transactions, and its world-class international electronic recharge services. MultiComm operates in the United States, Mexico, Central America, and South America with over 1000 convenient locations in the United States alone. MultiComm provides seamless integration between suppliers in order to best service both business and consumer. Their devotion to innovation and a commitment to integrity have defined MultiComms business strategy for years and ensure their growth for years to come.
Pure Minutes (link) provides a low-cost international calling solution that works with any phone number, regardless of the current provider. This means that a user can enjoy the benefits of low international rates without needing to change their current landline or mobile cell phone service provider. Pure Minutes has eliminated the need for physical calling cards through a revolutionary system which instantly recognizes subscribers through automatic caller identification.
"Through this mutually beneficial partnership with MultiComm, we are able to reach out to more consumers who will be able to experience the Pure Minutes signature brand of affordable and high-quality international calling they deserve" shared Sr. Business Development Executive Arturo Velasco. Of the deal MultiComm CEO Carlos Humphrey said "Pure Minutes provides an essential service that will help MultiComm reach more clients and is a key element that will allow our company to be more competitive in the market."
The venture allows Pure Minutes to deliver its signature low international rates directly through merchants and distributers through the MultiComm network available around the United States. Users benefit from the simplified process of purchasing a phone to making an affordable international call without contracts or obligation.
About PureMinutes
Pure Minutes is a leading provider of prepaid international long-distance calling solutions. We provide an affordable communication solution that offers flexibility, portability and ease-of-use for both landline and mobile users. PURE Minutes offers competitive international calling worldwide with no hidden fees, no maintenance fees, no contract required, and minutes that never expire. PURE Minutes service is sold on the web and through regional and national retailers including MoneyGram, La Nacional and payXchange and is available to customers worldwide in English and in Spanish and accepts payments through all major credit cards and Paypal.
Follow us on Twitter (@PUREMinutes), Facebook (facebook.com/PUREMinutes), and LinkedIn (PUREMinutes, LLC) for up to the minute updates.
###