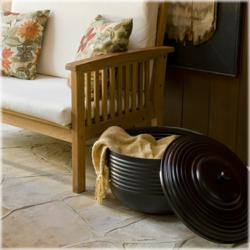 "It's all in how you chose your items," says Matt Brommer, who works on the outdoor décor brand. "Think about using color, shapes and textures to create an amazing new look without breaking the bank."
Lititz, PA (PRWEB) June 14, 2013
Gardeners are a fickle bunch – always transplanting, rearranging pots and looking for the newest and coolest outdoor décor item. And with warm weather already here, now is the time to add some glamour to the deck and garden areas and make this the year to bling out the backyard.
Avant Garden Décor offers ideas for bling minded gardeners who want to glam up without spending a lot of money. "It's all in how you chose your items," says Matt Brommer, who works on the outdoor décor brand. "Think about using color, shapes and textures to create an amazing new look without breaking the bank."
Brommer gives the following tips:
1.) Combine the old with the new: Some gardeners would say that hanging baskets are so "last year," but Brommer recommends adding glam to hanging baskets by using glass beads with trailing vines to catch the sunlight and dazzle the eye. Think of a garden or yard as a place to accessorize, in the same way a woman adds drama to a traditional hairdo for a wedding: same hairdo, immediate bling. Small glitzy items like hair and jewelry accessories add immediate beauty and shimmer to a traditional hanging basket or patio pot.
2.) Switch the function to create new looks: All gardeners use hoses and struggle with keeping them out of sight but easily accessible. Hose holders have become a very utilitarian popular solution to this gardening problem, but for gardeners, the fashion rating on hose holders is off the charts. In addition to the functional use of a hose holder, Brommer recommends gardeners get creative with hose holders and use them for non-functional purposes like storing wood beside a fire ring, keeping beer and soda on ice or storing blankets for a chilly evening. Hose holders bring lots of pizzazz to a deck or outdoor space and are an elegant way to "glam up!"
3.) Immediate glam with no effort: For a quick hit of glam, go with Wind Art. Gardeners can choose from wind spinners, chimes or crystal twisters and have an immediate touch of vibrant color moving in the breeze, accompanied by the soothing sound of chimes.
Avant Garden Décor is a premier brand of innovative outdoor living décor, including the CobraCo Brand. From stylish planters and baskets, to flower boxes, plant stands, and fire pits, the CobraCo Brand is the outdoor entertainer's choice for outdoor décor. Avant Garden Décor also offers Gardener's Blue Ribbon brand of garden helpers, such as garden stakes, accessories, and various plant saucers that meet the demands of both gardening hobbyists and enthusiasts alike. Gardeners can contact Avant Garden Décor at http://www.avantgardendecor.com or 800-323-5800.