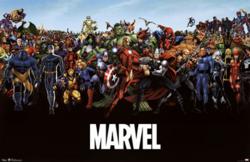 Delray Beach, FL (PRWEB) June 14, 2013
New comic posters were recently added to the wide selection of artwork available at PosterNation.com. Find new posters featuring characters such as Spiderman, X-Men, Batman and many more. In addition to classic comics, PosterNation.com also added a variety of posters featuring manga comics and characters.
Francois Buchs, co-founder of PosterNation.com, said, "Due to the popularity of our comic posters, PosterNation.com added a large variety of new posters to improve the shopping experience. To customize their selections, customers have the option to frame any of the posters available on our website at a fraction of the cost of local framers."
PosterNation.com shoppers can shop for these new posters now, while enjoying a site-wide sale on posters and framed art prints until June 30, 2013. All posters, art prints and framed art will be 25 percent off.
About PosterNation.com
PosterNation.com offers thousands of high-quality framed art prints and posters featuring themes that include: sports, movies, music, pets, animals, travel, motivational topics, hot people, vintage celebrities and more. The frame shop allows customers to customize their purchase by selecting the cropping, matting, framing and glazing for a framed art print or poster. Please visit http://www.PosterNation.com for more information.