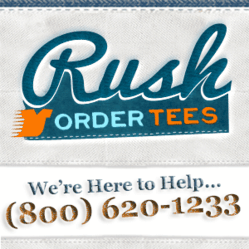 The art department is dedicated to enhancing the quality of the overall product
Philadelphia, PA (PRWEB) June 14, 2013
Due to expanding business and clientele base, custom apparel maker Rush Order Tees has recently completed their second office expansion in less than one year. Rush Order Tees is a web-based screen-printing and embroidery company that combines the independence of e-commerce with personalized customer service to create an individualized shopping experience. Part of that experience requires the company to have a highly skilled graphics department to meet the need of their growing client base, and as the business has grown the graphics department needed additional space to fulfill their daily work load effectively. Chief Strategy Officer Ron Reed felt the expansion was necessary for the growth of the company.
"We are one of the few companies in this industry that has an art department dedicated to enhancing the quality of the overall product," Reed stated. Rush Order Tees' graphics department performs a professional design review on every graphic that customers submit. The goal is to ensure the colors or design will work effectively with product(s) the customers have chosen. Rush Order Tees' Graphic Designers' job is to analyze the design's color to ensure it will appear correctly on the chosen product; if the end result is not a high-quality product they will make suggestions to improve the order. After the designers have reviewed and optimized the design, they send the customer a proof to approve the changes or enhancements. Customer feedback shows clients enjoy the collaborative element with both the sales and graphics department.
Reed explained the expansion as necessary due to the sustained growth of the company and to contribute to the Company's goal to provide the highest level of service and quality. The new space is an open and collaborative area that allows graphic designers to develop new and submitted designs. According to Reed, Rush Order Tees is continuing to expand and renovate their current location, and perhaps a new space is in the near future.
About Rush Order Tees
Rush Order Tees has been a family-run business since 2001. Since then, they have grown to be one of the top suppliers for customize apparel in the US and Canada. The company client-base includes small charity groups along with major corporate companies such as, Amazon and Google.
To learn more about Rush Order Tees visit http://www.RushOrderTees.com/Reviews