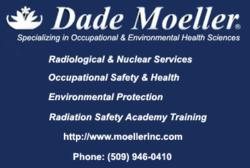 Richland, Washington (PRWEB) June 14, 2013
Dade Moeller is pleased to announce the winners of its 2013 Dade Moeller Scholarship Foundation merit-based educational scholarship program: Natalie Konerth of Huntingtown, Md., and Jordan Fellman of Olney, Md. Dade Moeller provided each with a $1,500 award to support the costs of their first year of college.
The Dade Moeller Scholarship Foundation awards two scholarships each year to children of employees. The scholarship program is open to high school students entering their first year at an accredited two-year or four-year college or university. The winners are selected by an independent evaluator using a weighted rating system that evaluates six criteria: activities and jobs, honors and awards, leadership, class rank, grade point average, and SAT or ACT test scores.
Konerth graduated from The Madeira School in McLean, Va., and will be attending American University in Washington, D.C. She plans to double major in biochemistry and mathematics. "While at American University, I will play intercollegiate level field hockey and be a member of the honors program," said Konerth. "After American, I plan to continue my studies in medicine, with a focus on research." She is the daughter of Dade Moeller employee Sandy Konerth, a board-certified medical physicist and a licensed medical physics auditor in the state of Maryland. She also is a member of the Dade Moeller Training Academy faculty, providing training to medical radiation safety officers and in the new course, "Medical X-ray Safety."
Fellman graduated from Sherwood High School in Silver Spring, Md., and will be attending the University of Colorado at Boulder. He plans to major in environmental science with a concentration in climate science. "I envision a career that will enable me to work toward solutions related to global warming and climate change," Fellman said. He is the son of Alan Fellman, a board-certified health physicist, who provides health physics consulting and auditing services to commercial, state, and Federal clients at project sites. He also is a member of the Dade Moeller Training Academy faculty, providing radiation safety officer training.
Headquartered in Richland, Wash., near the U.S. Department of Energy's Hanford nuclear site, Dade Moeller provides a full range of professional and technical services to federal, state, and commercial clients in support of nuclear, radiological, and environmental operations. The company specializes in radiation protection, health physics, worker safety, laboratory services, and training. Founded in 1994, the company bears the name of the late Dr. Dade W. Moeller, a scientist and educator in the fields of health physics and environmental health.