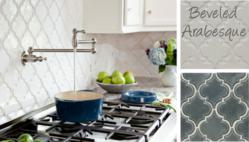 Tile Backsplashes allow homeowners to get creative and go for custom looks more easily and affordably.
Nashville, TN / Chattanooga, TN (PRWEB) June 17, 2013
Mission Stone & Tile announces 2013 trends in tile backsplash designs.
Read the full report, Mission Stone Tile's Top Ten Kitchen Backsplash List for 2013, for everything from simplistic designs to unique and contemporary options.
Mission Stone & Tile, a retailer/distributor of tile and natural stone collections with an online store and two showroom locations in Tennessee, has announced its trends in backsplash designs based on product sales from January 1 through June 15, 2013.
According to Mission Stone & Tile Founder and President Mary Elizabeth Hulsey Oropeza, tile backsplashes are extremely popular and a good indicator of kitchen design trends.
"Backsplashes allow homeowners to get creative and go for custom looks more easily and affordably," Oropeza explains. "They can incorporate colors and designs in backsplashes to give their kitchens the designer touches they love."
Oropeza states that backsplash designs account for a notable percentage of her company's overall sales for both the online store and the showroom location in Nashville, Tennessee. (The company's second showroom in Chattanooga opened its doors on June 3, 2013 and, thus, has not yet generated trackable sales data.)
"To be sure we're keeping up with consumer demand and latest design trends, our team tracks product sales on an ongoing basis," says Oropeza. "We've collected the top selling looks for backsplashes from January 1st to June 15th of this year, and the results align with current trends in backsplash designs."
Here are Mission Stone & Tile's top selling backsplash design trends:
Subway tile is perpetual best seller for Mission Stone & Tile, as it's a classic ceramic tile that works in just about every style of home.
"Whether you live in a farm house or a big city loft, subway tile will fit right in with your decor," Oropeza states.
Subway tile comes in many different color glazes, as well as shiny and matte finishes. Mission Stone & Tile often recommends shiny glazes for kitchen backsplashes for easy maintenance, but "sometimes that matte finish looks amazing in the right color for a contemporary look," according to Oropeza. Subway tile can be configured into a wide range of patterns. Most popular subway tile patterns for Mission customers include the classic herringbone pattern and vertical 'soldier stacked,' a more modern effect. While the basic white subway tile is the strongest seller, Oropeza reports she's seeing more bold color orders being placed these days, reflecting the market's readiness for more daring looks.
2.) Glass Mosaics
Glass mosaics are consistently strong sellers for backsplashes, as well. Oropeza says Mission Stone & Tile's Groovy Stixx collection leads in this category, offering the contemporary, colorful and glimmering effect many homeowners are looking for today. She sees many customers pairing these linear glass mosaics with other tile formats to create designs that extend across entire walls in the kitchen. "Use of under cabinet lighting is a nice way to achieve even more glimmer and ambiance with glass mosaics," she explains.
3.) Large Format Glass
Large format glass tiles are also tops in popularity for backsplashes. In contrast to their mosaic counterparts, large format glass tiles provide a continuous wash of shimmering color to create the illusion of a solid surface. Oropeza explains that this approach to design allows homeowners to create the effect of the countertop coming up to be part of the backsplash, without the variation of stone or some quartz materials. "The look is solid and contemporary...more reflective with an sleek and almost seamless appearance."
4.) Artisan Tile
The use of tile as art for backsplashes is really beyond the status of a passing trend, Oropeza reports. Artisan tile is a seasonless strong seller as so many homeowners love to create artistic focal points in their backsplash designs. Mission Stone Tile's Kibak Collection has grown in popularity in 2013, as it offers versatile patterns including Moroccan, Spanish, traditional and contemporary designs that can create beautiful murals or naturalistic wallscapes for the kitchen.
5.) Beveled Arabesque
Designed by Oropeza exclusively for Mission Stone & Tile, Beveled Arabesque is a widely popular backsplash collection. The line brings romance, shape and dimension to backsplash design Beveled Arabesque while bridging the gap between traditional and contemporary looks. The collection is offered in shades of white (the top selling color for the line) and gray as well as warmer earth tones. "It's been amazing to see this specially produced line become such a sought-after look for our customers!" Oropeza marvels.
According to Oropeza, Mission Stone & Tile's design consultants are well adept at guiding homeowners to select the looks that will best fit their life and their style. From consideration of overall appearance to the demands for ease of cleaning and maintenance, Mission Stone & Tile design pros help consumers prioritize what they need for kitchen backsplashes to make the best decisions for their homes.
To learn more or pursue the complete selection of backsplash tile options, visit missionstonetile.com or come by the company's showrooms in Nashville or Chattanooga, Tennessee.
About Mission Stone Tile
Mission Stone & Tile is a premiere importer and distributor of natural stone, ceramic, and porcelain tile collections, founded by tile industry veteran and interior designer Mary Elizabeth (Hulsey) Oropeza. Mission Stone & Tile is the culmination of 20 years expertise in stone and tile, grounded in a commitment to meet the needs of designer, architectural, builder and contractor clients.
Mission Stone & Tile showrooms are true design resource centers - light, open spaces filled with samples to inspire custom designs.
Locations are open weekdays between 8:30 and 4:30. Mission Stone & Tile's online store is accessible anytime at store.missionstonetile.com.
Mission Stone Tile- Headquarters
2930 Sidco Drive
Nashville, TN 37204
T: [615] 244-6448
F: [615] 244-6508
E: info(at)missionstonetile(dot)com
Mission Stone Tile- A Tile Showroom in Chattanooga, TN
55 East Main Street Ste 102
Chattanooga, TN 37408
T: 1-877-529-8453
E: chatt(at)missionstonetile(dot)com