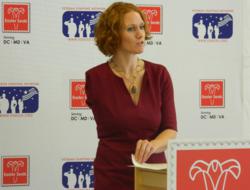 Silver Spring, MD (PRWEB) June 14, 2013
More than 60 employers, hiring managers, recruiters, and small business owners took part in a veterans employment seminar sponsored by Capital One Bank, Veteran Staffing Network of Easter Seals Serving DC | MD | VA and Corporate Immersion at the Easter Seals Harry & Jeanette Weinberg Inter-Generational Center on June 14.
"How Hiring Our Nation's Veterans Can Impact Your Bottom Line" provided employers from the Washington metropolitan region with essential insight to help reduce staff costs, recruit a highly effective workforce and retain talent.
Dawn Halfaker, President of the Wounded Warrior Project's Board of Directors, was the keynote speaker. A retired U.S. Army Captain, Halfaker was wounded during a combat patrol near Baghdad in 2004 and earned a Purple Heart and a Bronze Star. As President of the Wounded Warrior Project's Board of Directors, she leads the non-profit organization in raising awareness and enlisting the public's aid for the needs of severely injured servicemen and women. As President, CEO and Founder of Halfaker and Associates, she heads a team focused on professional services and technology solutions that advises and assists government organizations on issues of national and global significance.
"I spent my 25th birthday in a hospital (following her injury), thinking my life was over. I didn't think that I'd be of any use, have a job, be a mother or a wife. I thought life over," said Halfaker. "I hadn't just lost an arm. I had lost a career, a sense of purpose, and my identity. With only 1 percent of Americans serving in the military, it was becoming increasingly obvious to me that I had no idea what I could offer to the other 99 percent that I was about to join.
"Now for me as an employer, it is really important for me to recognize it's not about just handing out a job, it's about empowering our veterans to find the right opportunity that will ultimately give them a renewed sense of purpose and a career," Halfaker remarked later in her speech.
"It's all about veterans to me," said Easter Seals Board Chairman and CEO of CPS Professional Services Phil Panzarella. "One veteran – one job – one day at a time. Small businesses make up 80 percent of the market. If we can hire veterans in small businesses – one at a time – we will be in good shape." Panzarella is a service-disabled veteran and moderated a panel of employers seeking to hire veterans.
A panel of veterans was moderated by Karen Stang, Recruiting & Placement Manager for Northrup Grumman's Operation IMPACT.
Senior Vice President of Capital One Bank Tony Pica delivered the seminar's closing remarks. "As we think about developing our workforce, we must support our veterans who are returning home and looking to transition their unique skills into gainful civilian employment," said Pica. "We're proud to support our veterans during their transition by helping them not only prepare for new job opportunities but also secure those jobs and keep them." Capital One is a major supporter of Easter Seals Serving DC | MD | VA and the Veteran Staffing Network.
The Veteran Staffing Network (VSN) of Easter Seals Serving DC | MD | VA is a self-sustaining social enterprise model that serves the entire military community. VSN provides clients top-tier talent while simultaneously reducing veteran unemployment and is redefining veterans employment and temp-to-perm placement services. For additional information about VSN, call 855.VETS111 or visit http://www.vsnusa.org.
Corporate Immersion is a networking group comprised of employers and professionals with the primary objective of leveraging the myriad of collective resources to increase the employment of disabled veterans and other individuals with disabilities. For additional information about Corporate Immersion, contact National Program Manager/ Team Lead Billy Wright at 202.834.7462 or VetsReady2Work@(at)inden(dot)org.
Capital One Financial Corporation, headquartered in McLean, Va., is a Fortune 500 company with more than 900 branch locations primarily in New York, New Jersey, Texas, Louisiana, Maryland, Virginia, and the District of Columbia. Its subsidiaries, Capital One, N.A. and Capital One Bank (USA), N. A. offer a broad spectrum of financial products and services to consumers, small businesses and commercial clients. We apply the same principles of innovation, collaboration and empowerment in our commitment to our communities across the country that we do in our business. We recognize that helping to build strong and healthy communities - good places to work, good places to do business and good places to raise families - benefits us all and we are proud to support this and other community initiatives. For additional information, visit http://www.capitaloneinvestingforgood.com .
Easter Seals Serving DC | MD | VA provides services to ensure that all people with disabilities and other special needs, including wounded warriors, veterans, and their families, have equal opportunities to lead full and productive lives. For additional information about Easter Seals, call 301.588.8700 or visit http://www.eseal.org.