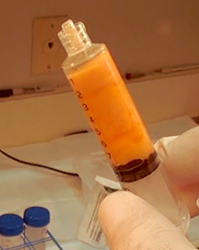 Gecko Joint andSpine is now accepting applications for patients to join our studies.
Sarasota, Florida (PRWEB) June 18, 2013
After almost 20 years of performing regenerative treatments in the field of non surgical orthopedics Gecko Joint and Spine is treating orthopedic conditions such as many degenerative diseases of joints such as bone on bone knee, arthritis of various joints and the spine using adipose-derived stem cell therapy in Sarasota, Florida.
Gecko Joint and Spine will treat patients suffering from osteoarthritis who might be recommended for joint replacement surgery. Gecko Joint and Spine will be using adult autologous stem cells, harvested from the patient's own adipose (fat) tissue or bone marrow or both called MarrApose. They are one of the only clinics offering the combination of both stem cells in one treatment. Generally if you are over 40 years old adipose stem cells are a better choice due to their higher yield compared to bone marrow. However by combining both you get powerful signaling for the stem cells to become cartilage and ligament. Because patients are receiving their own cells, there is no risk of rejection. As of 2015, over 15,000 studies have shown the safety using these cell lines.
Autologous stem cell therapy are your bodies repair men. They are circulated throughout your body and as soon as there is a need for them, chemical messages trigger them to migrate to the area and do their magic. They are both immune modulating and also regenerative which makes them a great therapeutic agent for osteoarthritis. Numerous studies have shown them to have the capacity to grow new cartilage, muscle and ligaments. We believe stem cell treatments will become the future of care for most orthopedic problems avoiding the need for surgery.
Gecko Joint and Spine trained under scientist Kristin Comella, CEO of Bioheart. She was recently named in the Wall Street Journal as one of the 50 most influential people on stem cell research. Gecko Joint and Spine will implement Bioheart's patented extraction process, allowing for an exceptionally high yield and viability of stem cells from fat.
How much do stem cell injections cost? It can very on the area and number of body parts treated by between $3,500-7,500.
During the in-office and same day procedure, a mini liposuction is performed. A half of a cup of fat in harvested from around the abdominal region which produces approximately 8 million stem cells. The stem cells are isolated put back into the patient's joints using ultrasound guided injections under local anesthesia. Local anesthesia is all that is needed and pain medication can be prescribed but is rarely necessary.
Gecko Joint and Spine has treated various orthopedic conditions for 4 years using fat transfer and now offers these treatments to patients ranging from NFL players to retired golfers. If you would like more information, e-mail Gecko Joint and Spine at AskDrGecko(at)Gmail(dot)com or call our office.
About Gecko Joint and Spine
Gecko Joint and Spine is a multi specialty practice in Sarasota, Florida, specializing in regenerative treatments such as Stem Cell Treatments, Prolotherapy, Ozone Therapy, Naturopathic, Acupuncture, Chiropractic Functional Neurology, Osteopathy, Functional Medicine, Hyperbaric Oxygen
Contact: Gecko Joint and Spine Phone: (941) 330-8553 E-mail: AskDrGecko(at)Gmail(dot)com Website: http://www.GeckoJointandSpine.com Office address: 2033 Wood Street #210 Sarasota, Florida 34237