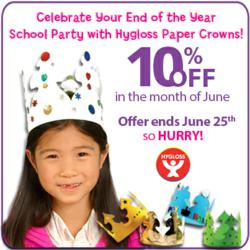 A fun or meaningful craft activity can help students through [the end of year] transition, leaving them with fond memories...
(PRWEB) June 17, 2013
Just in time for the end of the school year, Hygloss Products, the leading source for craft supplies and teacher supplies, is offering 10% off pre-shaped, pre-cut paper crowns. The crowns make students feel like royalty and are available in white, gold, or a 4-color assortment pack. Ready for personalizing and decorating, they are a favorite addition to end-of-the-year classroom celebrations. The discount is in effect from now until June 25, 2013 on the Hygloss Products website. No coupon code is necessary.
With summer vacation looming and schoolwork mostly complete, end-of-the-year classroom parties are a great way to keep students engaged and finish off the scholastic year with a bang. To give students a memorable sendoff, teachers often to turn to crafts which capture a favorite classroom theme, reflect students' personalities, or are just plain fun. Craft activities also help children express feelings of sadness, nostalgia, or excitement as they say goodbye to teachers and peers and look forward to the summer season ahead.
While shopping for pre-fab paper crowns, customers can also take advantage of Hygloss Products 15% off Summer Crafts Sale, which offers significant savings on products such as sand art, popsicle sticks, beads, painting posters, bug and flower sticker sheets, create-a-flower picture frames, scrapbooks for do-it-yourself nature projects, and Dippity Dye Cut butterfly, bumble bee, flower, leaf, and heart shapes. The sale lasts through June 30, 2013, and the discount is available by presenting present coupon code SUMMER15 at checkout.
"The end of the school year is often bittersweet," says Hygloss Products President Moshe Neurath, "with the classroom community breaking up and the future unknown. A fun or meaningful craft activity can help students through this transition, leaving them with fond memories as they take their finished product home and prepare for their summer adventures."
About Hygloss Products:
Since 1950, Hygloss Products has offered innovative arts and crafts supplies to ignite creativity in children and adults. Teachers, parents and hobbyists alike enjoy the superior quality of Hygloss craft supplies, specialty paper, and classroom essentials. Children's minds are ever expanding, and that's why the Hygloss product line is constantly being updated. All Hygloss Products come with a money back satisfaction guarantee because we're not happy until you are. Give yourself a fabulous crafting experience with unique and exclusive supplies from Hygloss Products.
Hygloss Products
800-444-9456