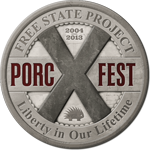 At other libertarian conferences, you can hear speeches on what a free society might look like. But at Porcfest, you see it—at least a glimpse—with your own eyes. - Robert Murphy
Lancaster, New Hampshire (PRWEB) June 17, 2013
The biggest outgrowth of the libertarian movement since Ron Paul's presidential campaign is the Free State Project (FSP), an effort to concentrate 20,000 liberty activists in the State of New Hampshire to maximize their impact. In addition to boasting 14,219 signed participants and 1,160 participants in-state already – including 14 in the State House – the FSP is responsible for the largest festival in the world focusing on the growing liberty movement.
The Porcupine Freedom Festival, known as PorcFest, is the Free State Project's flagship summer gathering, where radical libertarians gather to share ideas and engage in countercultural activities. It's the Northeast's answer to Burning Man. This year's 10th anniversary celebration – dubbed PorcFest X – is set to break records for attendance and events. It will be held at Roger's Campground in Lancaster, NH from June 17 - 23, 2013.
PorcFest is less a single event than a confederation of mini-festivals over the course of a week. The early part of the week centers around a talk and debate with David Friedman, renowned economist and theorist of anarcho-capitalism. The week is also packed with hundreds of sessions from Bitcoin to face-painting to film screenings, and also festival-wide celebrations like Buzz's Big Gay Dance Party, an event which defies explanation. An entrepreneur competition called Agorist Pitch is offering an ounce of gold to its first-prize winner.
Aside from the organized programming, a large section of the campground is transformed into "Agora Valley," where attendees can buy anything from knit hats to heirloom seeds using alternative currencies. Festival-goers will attend classes in aquaponics, food dehydrating, and other self-sufficiency topics.
On Friday, Michael Boldin, founder of the Tenth Amendment Center and a star of the movement sparked by Ron Paul's presidential runs, will deliver a one-hour keynote entitled From Zero to Rothbard: An Action Plan for Liberty. In addition to Friedman and Boldin, PorcFest will host several prominent figures in the libertarian community, including Robert Murphy, Mary Ruwart, Gary Johnson, and Michael Strong.
"At other libertarian conferences, you can hear speeches on what a free society might look like," wrote Robert Murphy after last year's festival, "but at Porcfest, you see it—at least a glimpse—with your own eyes. Even though my entire career has focused on the study and advocacy of a society based on voluntary relations, I myself believed in the vision more after visiting Porcfest."
The Porcupine Freedom Festival is open to members of the press. For more information, an interview with one of the organizers, or to arrange to send a journalist to experience it firsthand, please contact Mike Vine, the Lead Organizer of Porcfest, at (917) 719-6333.