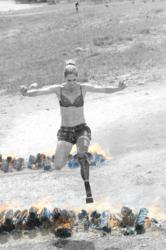 Hicksville, New York (PRWEB) June 19, 2013
There are millions of running races, thousands of marathons, hundreds of triathlons and dozens of ultramarathons, but there is only one Spartan Death Race. Held annually since 2005 in the small town of Pittsfield, VT, the 2013 Death Race, scheduled for June 21-24, offers invited competitors the chance to test their mental and physical prowess like no other event on earth.
The hurdle-and challenge-driven race requires competitors to complete a series of grueling mental and physical challenges throughout a fifty mile course that runs through the Vermont woods. During the Death Race, competitors may be asked to chop wood for two hours, carry a twenty pound stump around for hours, build a fire, cut a bushel of onions, and/or crawl through mud under barbed wire. After thirty hours of racing, they may be asked to memorize the names of the first 10 U.S. presidents or a bible verse, hike to the top of a mountain, and recite them back in order. Many of the challenges for the competitors are designed to benefit the local community in and around Pittsfield, Vermont.
300 athletes will compete in this race that historically has never had more than 20% of its participants complete the course. "I am anticipating that this will be one of the most exciting and challenging events that I have ever participated in," said Palmiero-Winters.
Unlike other endurance races that offer a detailed map, Spartan Death Racers have no idea what to expect next as the course map and list of challenges are kept secret. Even the length of the race is a surprise, and can range from forty-eight to seventy-two hours. Entrants are only provided with a list of supplies they need to procure and a time and place to show up. This year's list of required items the competitors need to bring with them include a tuxedo, five pounds of hay, one pound of grass seed, an axe, a hand shovel, a saw and ten feet of rope.
Besides being a world-class endurance athlete, Amy is a single mother of two, works full time as program director for A Step Ahead Prosthetics in Hicksville, NY and runs her own charity, Amy's One Step Ahead Foundation. Amy's accomplishments have been recognized with the prestigious Sullivan and ESPY awards as well as many articles in Runners World, The New York Times, The Daily News, New York Post, Newsday and many other national publications. For more information on Amy Palmiero-Winters visit http://www.seeamyrun.com and http://www.onestepaheadfoundation.org.
Amy is a proud member of Team A Step Ahead, a team of amputee athletes from around the world who compete in events including the Hawaii Ironman Triathlon, multiple marathons, road races around the world, and the Paralympic Games. Team A Step Ahead's members have been very competitive against able-bodied athletes, placing and winning age group awards. These elite athletes hold or have held world records in the 100m, 200m, 400m, track and field events, marathons and triathlons. Athletes receive training from coaches, prosthetists and physical therapists that are experts in working with amputee athletes, including world-record-holding Paralympians. For additional information on Team A Step Ahead, visit http://www.astepaheadonline.com.