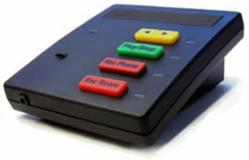 We need to be clear here - the big difference between all the furor in Washington and a business recording its' calls is that at least one party in the conversation knows the call is being recorded
Niagara Falls, New York (PRWEB) June 18, 2013
Amid all the controversy related to the U.S. government phone call recording and monitoring, a much more acceptable practice exists for businesses - the recording of company telephone calls for quality assurance and training purposes. In fact, business phone call recording equipment has been called the greatest business tool ever made.
Call recording systems allow users to record telephone calls and play back important conversations to business associates and clients. Managers get all the facts because they hear the actual phone call. The newest generation of electronic call recording equipment allows separation of calls from various customers into different electronic folders on the associated computer.
Using call recording equipment is a great way to to improve the productivity of business phone conferences. By attaching a call recording system to a conference phone, business users can make copies for all participants so they will remember what was discussed. While tape recording devices still exist, recording calls directly to a computer is now the most popular solution. Users simply plug their phone into the recorder and plug the recorder into the USB port of a computer to record all phone calls. The call recording hardware captures the whole conversation, even if the user only presses the record button near the end of a call.
Telephone Magic Inc. is a long-time online leader in call recording equipment and now offers an enhanced USB computer phone call recorder. Jeff Jackson, president of Telephone Magic, notes, "We need to be clear here - the big difference between all the furor in Washington and a business recording its' calls is that at least one party in the conversation knows the call is being recorded. What makes call recording illegal without a warrant in most U.S. States and Canada is when neither party in the call knows their conversation is being listened in on."
Jackson continues, "Businesses on the other hand are allowed to record their calls. That is why we offer an easy to use and cost-effective call recording system, which allows our customers to purchase recording units for their office phone extensions and home office phones. We can also customize multi-line call recording solutions for call centers. Most businesses go so far as to announce that their calls may be recorded so nobody is surprised when a copy of the conversation is later produced as a record of what was said."
New USB call recorder equipment copies business telephone calls by connecting to a computer using a USB cable.The telephone call recording system is a powerful little hardware & software combination that connects business phones to employees computers, allowing recording of phone calls automatically or manually. The USB Call Recorder can also record conversations in the office with its built-in microphone. This call recorder also allows you to play back phone messages over the phone and features a headset jack.
Business telephone calls are saved directly to the computer hard drive and can be accessed using a username and password for security. Files can be easily accessed using the USB Recorder software and can be e-mailed or burned to CD for archival purposes. Messages can be saved on a local PC, saved across the network, or even to a FTP location specified in the software.
Previous versions of the USB phone call recorder copied a telephone conversation by recording the handset speaker signal only. That signal was usually sufficient to record both sides of the telephone conversation because there was sufficient side tone in the telephone set or phone system to record the local caller. On some phone systems, however, the side tone level was very low, resulting in the recorded level of the local caller being overly low. The newer version call recording system remedied this problem by adding a second recording path that captures the handset microphone signal for the local caller. This path has an adjustable record volume control so that the local caller and remote caller can be recorded at the same level.
Jackson states, "It really is amazing how easy it is to install and utilize a USB computer call recording system. While we do offer more expensive lines of call recording equipment, any business owner or manager that wants to record calls on their office phone system can take advantage of this affordable USB recorder. It's a feature packed call recording system at a great price."
About Telephone Magic Inc.
Telephone Magic Inc. is a 24+ year old wholesale distributor of business phone equipment.
Telephone Magic carries Avaya IP Office, Avaya BCM, Definity PBX, and Partner ACS phone systems, Avaya digital telephones, Avaya IP phones, circuit packs, cards, modules, expansion equipment, etc. Also featured are the legacy Nortel Norstar, BCM, and Meridian phone and voice mail systems, phones, Media Bay Modules, Key Codes, cards, expansion modules, parts, and accessories.
Telephone Magic features the NEC Univerge line of business and hotel telephone systems, including the Univerge SV8100 platform. This robust IP phone system contains a host of state-of-the-art telecom features.
Telephone Magic also specializes in Cisco IP phones, Polycom SIP telephones, phone call recording systems; message on hold systems; hotel and motel room phones from all the leading manufacturers; telephone headsets for Nortel Norstar, Merdian, Avaya, and NEC phones; wireless headsets for business phones; long range wireless phones; conference phones; and more.
Specialty products include Mitel PBX phone system cards, Supersets, and IP telephones, Plantronics phone headsets, Norstar, Avaya, Mitel, NEC digital and IP phones, Long range wireless phones, Call Recording equipment, On Hold Message systems, messages, Teledex, TeleMatrix, Scitec hotel room phones, Polycom conference phones, and much more.