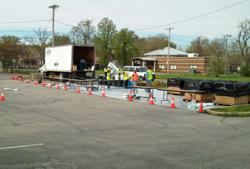 The collection days are a safe and responsible way to remove unwanted and potentially dangerous substances from the community
Toledo, Ohio (PRWEB) June 19, 2013
Allied Environmental Services, Inc. (Allied), one of the Midwest's premier environmental consulting and contracting firms, assisted the City of Toledo Division of Environmental Services in providing a series of household hazardous waste collection events in May and June 2013.
The collection days were provided free of charge to residents of Toledo, allowing citizens an outlet to properly dispose of unwanted and unneeded petroleum products and hazardous materials including: motor oil, anti-freeze, paint thinners, lawn chemicals and pesticides, paint and household cleaning agents. The events also provided a mercury thermometer exchange, allowing residents to trade mercury-containing thermometers for safer digital units.
The events were coordinated and provided by the City of Toledo. Allied Environmental Services provided onsite hazardous waste management specialists, and conducted the collection, packaging and transport of all collected materials. According to Bob Bourne, Allied Operations Manager, the materials were recycled where possible, or properly disposed of at appropriate licensed disposal facilities. "The collection days are a safe and responsible way to remove unwanted and potentially dangerous substances from the community," stated Bourne. He added, "The City of Toledo deserves a lot of credit and thanks for organizing and providing such a valuable service to the residents of Toledo".
For more information regarding future household hazardous waste collection events, or proper management of hazardous materials within the City of Toledo, please contact: City of Toledo - Division of Environmental Services at 419-213-2230.
About Allied Environmental Services, Inc.
Allied Environmental Services, Inc. (Allied) is a leading environmental consulting and contracting firm with offices in Lima, Ohio and Toledo, Ohio. For over 26 years, Allied has provided professional environmental management solutions to private industry, property owners, lenders, municipalities, schools, and hospitals. Allied specializes in hazardous materials management, emergency spill response,industrial cleaning (vac-truck and hydroblasting services), asbestos abatement, underground storage tank closure, Phase I and II ESA, and air quality testing.
For more information please visit Allied's website at http://www.allied-environmental.com.