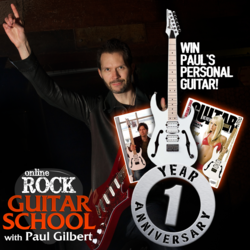 I can't thank [Paul] enough," says online student Patrick Lelek. "We see constant improvement from our peers, EVERY video response is a valuable aid. I am constantly overwhelmed by what is presented here."
Napa, CA (PRWEB) June 18, 2013
ArtistWorks, the leading interactive lifestyle social learning platform announced the one year anniversary of their Online Rock Guitar School with Paul Gilbert.
The 30-day celebration runs through July 15, 2013. And when it's over, one lucky student will get one of Paul Gilbert's signature Ibanez PGM301 guitars from his personal collection.
Gilbert will be playing the guitar throughout the month as he provides Video Exchange™ responses to practice videos submitted by students of his online guitar lessons.
In addition to the grand prize, each of the "Original 25" students who signed up for Paul's school and are still members will receive a "Paul Gilbert is My Teacher" T-Shirt designed by Gilbert himself. Plus, T-shirts will be given away at random to 25 of the new students who sign up between June 15 and July 15.
Finally, for those guitarists who can't join by the July 15 deadline to be eligible for Paul's personal PGM301 contest, ArtistWorks is giving away a new Ibanez Artist guitar here, through June 22.
In the year since launching, Paul Gilbert has become ArtistWorks' fastest growing artist. He's set a record for most Video Exchanges and he's even recorded a video exchange lesson from the back of a town car on the way to a concert.
At the same time, guitarists around the world have taken their playing to a new level with a comprehensive library of pre recorded video rock guitar lessons, combined with personalized Video Exchanges with Gilbert. It's unique new way of learning that combines Paul Gilbert's unparalleled talents as a player and teacher with a unique social learning environment where every Video Exchange provides a new lesson for the community.
I can't thank [Paul] enough," says online student Patrick Lelek. "We see constant improvement from our peers, EVERY video response is a valuable aid. I am constantly overwhelmed by what is presented here."
To learn more about the ArtistWorks Online Rock Guitar School with Paul Gilbert, visit PaulGilbertGuitar.com
About ArtistWorks, Inc.
Founded in 2008 by former AOL executive David Butler and former financial executive Patricia Butler, ArtistWorks, Inc. is the leader in a new generation of online learning platforms. Their revolutionary global learning community of world-renowned teaching artists and enthusiastic amateurs is dedicated to unleashing the music that lies within all of us. This "next generation" Video Exchange Feedback Platform enables virtuoso musicians to "teach the world" by presenting their musical legacy in the form of HD video lessons to subscribing students. Utilizing simple web cams, smartphones, tablets or video cameras, students are able to submit practice videos and get individualized video feedback and guidance from their teaching artists - creating a constantly evolving two-way, online learning experience.
ArtistWorks currently offers online learning schools from such world-class artists as: Paul Gilbert (rock guitar lessons), Martin Taylor (fingerstyle guitar lessons), Jason Vieaux (classical guitar lessons), Andreas Oberg (jazz guitar lessons), Jeannie Deva (singing lessons), Nathan Cole (violin lessons), Jeffrey Khaner (flute lessons), William Caballero (French horn lessons), David Bilger (trumpet lessons), Ricardo Morales (clarinet lessons), Nathan East (electric bass lessons), John Patitucci (jazz bass lessons), Howard Levy (harmonica lessons), DJ Qbert (DJ lessons), Christie Peery (piano lessons), Billy Cobham (jazz and fusion drum lessons), Luis Conte (percussion lessons), as well as the ArtistWorks Academy of Bluegrass with Tony Trischka (banjo lessons), Missy Raines (double bass lessons), Bryan Sutton (flatpick guitar lessons), Andy Hall (Dobro lessons), Mike Marshall (mandolin lessons), and Darol Anger (fiddle lessons). For more information, visit ArtistWorks.com