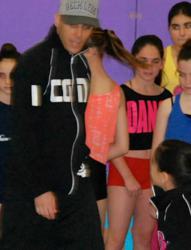 My girls know that dancing is also about giving. When you have talent, you learn to share it with others to benefit a worthy cause.
(PRWEB) June 19, 2013
On Saturday, April 27th, DSDW raised over $2,700 as part of the dance school's ongoing community service efforts. Dancers came in droves from all over to study under famed choreographer/director Geo Hubela, while contributing their time and energy to aid the American Cancer Society. In memory of Debra Sparks' mother, Phyllis Sparks, from 5 to 8 pm the studio was filled with music, dance moves, and lots of spirit!
Creator/choreographer/director of ICONic Dance Crew, ICONic Boyz, and owner of ICON DANCE COMPLEX, George "Geo" Hubela is a guest teacher at the Broadway Dance Center in New York whose many credits include:

MTV's BeComing
Geo's Dance Party (instructional video)
Danced with Michael Jackson, Will Smith, Pink, Britney Spears
Many TV shows including The Young and the Restless
Fame LA
The Nikki Cox Show
The Miss America Pageant
The Goodwill Games
And many more
About the Studio
When it comes to the best Bucks County dance studio instruction, there's no better mentor than Ms. Debra Sparks. She raises the "barre" with her high standards and nurturing approach to produce the finest of dancers.
Did you know?
Throughout the year, Debra Sparks Dance Works hosts a variety of Master classes with guest choreographers from New York, Philadelphia, and Los Angeles. Check out the DSDW dance school video!
Debra Sparks Dance Works offers year-round dance classes, focusing on classical ballet as the primary foundation of training. Classes offered for students aged 3 to adult include:

Acro
Ballet—Classical
Ballet—Contemporary
Ballet—Pointe
Glee Club
Hip Hop
Jazz
Jazz—Competitive
Jazz—Funk
Jump & Turn
Lyrical
Modern
Musical Theatre
Pilates
Tap
Zumba
For tickets to the upcoming show or for more information about Debra Sparks, the DSDW studio, Master classes, Newtown, Bucks County dance classes, the area's best ballet and dance training, or for answers to general questions, please call the studio at (215) 579-5678.
Or visit the company's website.
Press release writing by WebSiteText, LLC