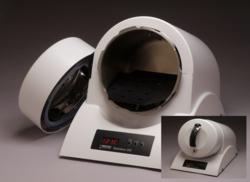 New user friendly innovations in table top autoclaves, like the Saniclave 200 prevent the dangers of misuse and ineffective sterilization
Minneapolis, MN (PRWEB) June 18, 2013
New user friendly innovations in table top autoclaves, like the Saniclave 200 prevent the dangers of misuse and ineffective sterilization. Older autoclave designs have confusing features, like knobs, analog pressure gauges, hot surfaces and complex door latches. Whether one has an older autoclave, or a new, modern autoclave, Revolutionary Science explains some important points to remember.
1. Always use fresh water. Older autoclave designs will recycle dirty water. This method can be dangerous. Endotoxins and bacteria thrive in dirty autoclave water. Each time the autoclave cycle is initiated, fresh, distilled water should be used. The Saniclave 200 and the SciCan Statim are two autoclaves that do not recycle water. Therefore, most older autoclave designs automatically reuse dirty water. This can be remedied by draining and cleaning the water reservoir after each time of use. Used water in top loading autoclaves should be dumped out after each use.
2. Do not put pouched instruments in top loading autoclaves. Wrapped, bagged or pouched instruments should never be used in a top loading autoclave. Top loading autoclaves (commonly referred to as "pressure cooker style") are not typically fashioned with a dry mode. For this reason, when the cycle is complete, the load comes out wet. "Microorganisms travel through pouches or wraps when they are wet." states Isaac Erickson of Revolutionary Science. "Top loading autoclaves are great when used for immediate use sterilization, but not if sterilized instruments are intended to be used at a later time." Wrapped, bagged or pouched instruments should ONLY come out of an autoclave when they are dry, never wet.
3. Correct temperature and sterilization time is critical. ANSI/AAMI ST79 requires autoclaves to sterilize at 121C (250F) for 30 minutes or for a shorter time period if the temperature is higher. Older autoclave designs offer awkward and sometimes insufficient sterilization cycles some are as short as 18 minutes at 121C. This can be dangerous since spores require a longer time for effective sterilization. Most modern autoclaves, like the Saniclave 200 have preset sterilization cycles of 121C for 30 minutes that are in harmony with updated FDA and ANSI/AAMI requirements.
Although the operation of some autoclaves may be simple, it is imperative to understand the proper functionality and limitations of those autoclaves. The product manual and the autoclave's 510k summary should be read and fully comprehended. If there is any question about autoclaving a medical device, check the device's autoclaving instructions provided by the manufacturer.
About Revolutionary Science
In 1999, Revolutionary Science was founded after the birth of the company's first micro centrifuge. Years later, Revolutionary Science designs and manufactures incubators, centrifuges, autoclaves, automated cell and colony counters and water baths.
Registered with the FDA and ISO, Revolutionary Science is a Minnesota company dedicated to the manufacturing of precision life science and sterilization equipment.