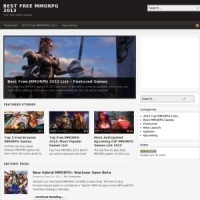 Our top new MMORPG 2013 list is one of our most popular website features because gamers are always on the lookout for new or open beta games
Los Angeles, CA (PRWEB) June 18, 2013
There's nothing like finding a great new game to play but these days there are dozens of free to play online games launched every year.
So which ones are worth playing?
Bestfreemmorpg2013.com, a niche gaming website known for its insightful and expert reviews of massively multiplayer online role-playing games (MMORPGs), has the answer.The website's New MMORPG 2013 List features the best of the newly launched free-to-play (F2P) games.
The list can be accessed here:
http://bestfreemmorpg2013.com/category/new-launch/
"Our top new MMORPG 2013 list is one of our most popular website features because gamers are always on the lookout for new or open beta games," said Dante Rossi, editor. "No gamer wants to be late to the party or left out if there's something more fun than the MMO they are currently playing. We wrote this particular feature so that gamers can find all of the information they need in one place. They can just visit our site and see at a glance what the latest news is."
The Bestfreemmorpg2013.com website offers news and reviews of the best newly launched and open beta MMORPGs. This is a sought-after feature because players know that when a new game is launched its developers typically hold events and giveaways to encourage more people to play. It's a great opportunity to get swag that is only available during launch or pre-launch events.
Open beta, on the other hand, is more about being the first to play a game before its official launch. For many, it is also a great opportunity to help develop a better game. An MMORPG normally goes through several testing phases to find and fix bugs before it is commercially launched. Open beta is the last stage of testing in which the game is made available to the public so that the developers can get feedback from players and improve their game.
"We don't just focus on the most hyped games so there's something for everyone. There are 3D fantasy MMORPGs, browser-based games, shooter MMOs, and niche games," said Rossi. "Summer is here so there are a lot of students looking for something fun and free to play. This all-new MMORPG 2013 list is ideal for them since it doesn't just rehash reviews of the same old games people have been playing for the last ten years."
To stay abreast of the latest news about MMOs, please visit http://bestfreemmorpg2013.com/.
About Bestfreemmorpg2013.com
A new games website for MMORPG fans, Bestfreemmorpg2013.com is devoted to bringing players the best of online gaming through reviews, news, opinion and feature articles about the top MMOs available today. The writers and editorial staff are all real veteran gamers who aim to provide readers with concise, intelligent and insightful posts. The website also sports a clean, modern layout that is optimized for readability and with minimal advertising.