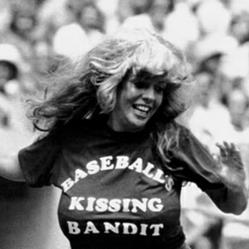 (PRWEB) June 19, 2013
On Tuesday, May 14th, Roopstigo Mobile Sports Network (roopstigo.com) debuted its latest piece of original sports video content, "Morganna: A Kissing Bandit's Mystery," a 17-minute web-documentary by former ESPN 30 for 30 director Adam Kurland. The documentary registered more than 100,000 unique views and was featured on the likes of Deadspin.com, NBC's HardballTalk.com, TheBigLead.com, and received critical acclaim via social media from personalities such as ESPN's Buster Olney and NBC's Joe Posnanski. The piece serves as the latest example of Roopstigo's success as an early stage multimedia platform for producing and distributing free original sports content.
In 1969, Morganna Roberts, not yet known as the "Kissing Bandit," ran onto Riverfront Stadium's infield and kissed Pete Rose. The act, simple enough, caused a stir in the reserved sanctum of Major League Baseball. But to the surprise of everyone, Morganna followed this up with repeat performances that spanned the next 30 years, planting her lips on over 50 athletes and being unofficially dubbed the first lady of baseball.
However, despite her willingness to flaunt her 60-inch chest and embrace her own celebrity with late-night show appearances and news stories, Morganna kept her own life incredibly private. To this day, the line between fact and fiction is blurred, making Morganna ever more fascinating. In this short documentary film, director Adam Kurland takes a look back at this novelty act and attempts to find some clarity from the obscured path that Morganna left behind.
Roopstigo is a revolutionary website and free app founded by Selena Roberts, best-selling author and award-winning sports journalist for Sports Illustrated, ESPN, and The New York Times, and advised by former president of HBO Sports and Madison Square Garden, Seth Abraham. Roopstigo is shifting the paradigm in how fans consume sports content by offering free documentaries, web series, video shorts, animation, and long-form journalism, created by some of sports media's most renowned figures on a mobile platform across 8 distinct channels. Roopstigo's launch month surpassed the comparable launch figures of other successful digital sports properties such as Time Warner's Bleacher Report, ESPN's Grantland, and Vox Media's SB Nation.
Roopstigo recently made national headlines stemming from Selena Roberts' news breaking investigation of Auburn University's alleged NCAA violations that was the lead story on SportsCenter, ESPN.com, CNN.com, CBSSports.com and many other digital sports properties. Additionally, Roopstigo has been featured on Good Morning America, MSNBC, Forbes.com, NYTimes.com and BusinessWeek.com.