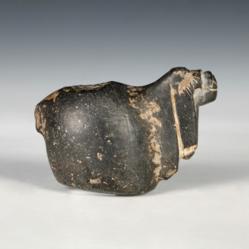 Could it be the Canopa convey a message from Panchamama?
Chicago, IL (PRWEB) June 18, 2013
Primitive, the well-known Chicago gallery, unveiled a collection of pre-Columbian stone votives from the farmlands of Peru known as Canopa. These small hand-chiseled containers are considered exceptionally rare and usually seen only in museums. Hundreds of years ago, they were created in honor of Pachamama, the Earth Goddess, by the Inca people in Peru. They will be exhibited as part of an exhibition of ancient stone from around the world.
In explaining why the votives are in the form of llamas, Glen Joffe, the owner of Primitive said, "There is an ancient Andean myth stating alpacas, the furry llama-like animals, entered the world after a goddess fell in love with a human. The goddess' father consented to her inhabiting earth, but only if she brought her alpacas along and only if mankind afforded them special care. The goddess' name was Pachamama, and she became known as "Mother Earth." The hole in the backs of the votives was filled with offerings made of coca leaves and other substances to appease this Pachamama and insure a rich harvest. They were then abandoned in the fields and over time became buried in the earth, only to be excavated later.
Primitive's collection of Canopa are exceptionally fine examples of stone carving, some of which still have some original offering material left inside the holes in their backs. The Canopa have been buried underground since the Incas farmed the Peruvian landscape. They were originally crafted during the 13th-14th Centuries, and never shown to the general public until the Primitive exhibit. These diminutive works of art represented many things to the ancient Peruvians – part of their cosmology, a tool used in a time honored ritual, and almost certainly, a magical object. In describing this unique ancient collection Glen Joffe also posed two provocative questions: "Could it be the Canopa convey a message from Pachamama? After all, it was with her consent the earth gave them back. And if so, what does she want to say?"
About Primitive: Located in downtown Chicago, Primitive presents authentic one-of-a-kind collections of furniture, artifacts, textiles, jewelry, fashion and artwork from around the world. Whether visiting in-person or on the web, you will find a vast colorful mosaic of authentic collections brought from some of the world's hardest to reach places. Everything offered by Primitive is collectible, has a story, history, purpose and design heritage, and comes "from the hand and heart."