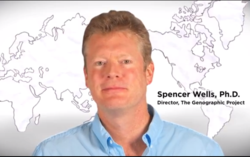 "DNA is like a computer program but far, far more advanced than any software ever created."
Bill Gates
(PRWEB) June 20, 2013
AncestorEbooks introduces the National Geographic 'Genographic' Project, led by Dr. Spencer Wells. This project was created to analyze the historical roots of DNA from around the world. [bit.ly/18TLlx6]
The National Geographic Genographic Project gathers information for analysis in collaboration from indigenous and traditional people around the world, include the general public, in this "real-time" scientific study, to learn about a participants family history through analyzing their DNA, and to allow for indigenous conservation and revitalization through the Genographic Legacy Fund.
The Genographic Project tests the mitochondrial DNA of volunteer participants for up to 15,000 markers that have been selected for the relevance to family ancestry contained. [bit.ly/18TLlx6] This mitochondrial DNA is transmitted directly from mother to child; for men, genetic markers in the Y chromosome are also tested for the genetic information passed from father to son, then the whole genome is examined for DNA markers. Participants receive their results, including the migration pattern of their lineage, when they visit genographic.com. [bit.ly/18TLlx6]
The Genographic Project, labeled the DNA Ancestry Project, is not the only online DNA testing available. Ancestry.com launched AncestryDNA in May 2012, in conjunction with the Sorenson Molecular Genealogy Foundation Database, which 'is the foremost collection of genetic genealogy data in the world.' [smgf.org/]
AncestorEbooks remembers the PBS special "Cracking Your Genetic Code", which aired March 28, 2012, about people with serious illnesses, such as cancer and cystic fibrosis who had seemingly good health because scientists have found and neutralized the genetic markers behind their illnesses. [to.pbs.org/w6YeRI]
According to Jason Bryan, BS, and associates of the Sorenson Forensics company, 'The utilization of many worldwide DNA databases is an essential tool in modern criminal investigations.' Knowing the ancestral history of the perpetrator could be of benefit, especially in the circumstances of cold cases. [bit.ly/19OQciL]
One criminal case in which genetics was used for a defense was written about by Steve Connor of The Independent news, Sunday 12 February 1995, wrote about STEPHEN "Tony" Mobley, as an affluent, white, middle-class American family man who as he grew up became increasingly violent, and (in 1991) at the age of 25 he walked into a pizza store and casually shot the manager in the neck after robbing the till and joking that he would apply for the job vacancy when the man was dead.'
In the NPR news, August 17, 2012, Alix Spiegel wrote about the Mobley's case... "Right around the time Mobley went to trial, a study was published in a scientific journal about an extremely interesting gene called MAOA: monoamine oxidase A."
Spiegel continued, "A geneticist named Han Brunner had been looking into MAOA —
According to Brunner, a number of the men in the family had a defect in their MAOA gene, and all of the males with that defect engaged in terrible behavior. They raped, assaulted, tried to kill — not the kind of people you wanted to meet on your nightly stroll to the windmill."
Spiegel closed with these statements, "Mobley originally got the death penalty for his crime but appealed on the grounds that his counsel was bad because they didn't insist that he be tested for the MAOA defect. One appeals court agreed with him and actually reduced his sentence from death to life in prison, but that was overturned by another court that said MAOA testimony shouldn't be considered, and Mobley was put to death in 2005." [goo.gl/3zGkP]
According to the Georgia Department of Corrections, 'Georgia executed a man Tuesday who killed a pizza shop manager during a three-week robbery spree 14 years ago. Stephen A. Mobley, 39, was given a lethal injection at the state prison in Jackson for the Feb. 17, 1991 murder of 24-year-old John Collins. He was pronounced dead at 8 p.m. March 1, 2005.'
Gayla Mendenhall of AncestorEbooks says, "I honestly feel that genetic testing for all would be a good thing. If it would help cure cystic fibrosis, cancer, Parkinsons disease, autism, etc., it would be brilliant. However, I think there would have to be some pretty strict checks and balancing systems to prevent government agencies from going overboard."
"As for using genetics to find criminals, as important as justice is, I feel there is a moral dilemma in the use of genetic family trees online to catch criminals. For example the person who uploaded their genetic code may not have a clue they have a half brother or sister, let alone one that committed a crime," Mendenhall continues.
"However, putting aside the ethical and moral dilemmas, I can't help but think what an incredible ebook could be created through AncestorEbooks.com using the information about a person's ancestral DNA."