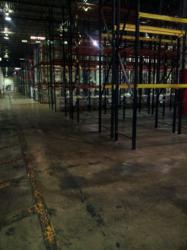 "The new racking system has significantly reduced the overall cost of storing and handling product within our facility," - Chuck Capra
Dayton, NJ (PRWEB) June 20, 2013
In effort to pass along savings of space and work flow efficiencies to its warehouse customers, Hermann Services has completed a racking system renovation at its Dayton, New Jersey warehouse. Innovations in high density racking systems has helped Hermann Warehousing more than triple its storage capacity at the facility to nearly 25,000 pallet positions.
"Our goal is to fulfill our customers' needs to acquire storage and distribution services at the lowest possible cost," said Chuck Capra, Executive Vice President Hermann Warehousing. "Now we can take advantage of new economies of scale provided by increased storage density to pass savings on to both bulk and rack storage clients."
Hermann's Dayton, NJ warehouse now offers clients over 150,000 sq. ft. of bulk storage and 150,000 sq. ft. of rack storage. Hermann Transportation and Logistics divisions support the Warehouse division with distribution services throughout North America. Located near the Ports of New Jersey and New York, Hermann provides drayage services for importers and exporters. The facility is also rail-sided for service by Norfolk Southern and CSX.
"The new racking system has significantly reduced the overall cost of storing and handling product within our facility," added Mr. Capra. "It has also allowed us to double the throughput at the facility with the same equipment and number of operators required prior to the renovation."
Hermann Warehousing handles all types of bulk and rack storage including:

Chemicals
Coffee and Tea
Consumer Packaged Goods
Cotton
Food Grade Products
Furniture
Hazardous Materials
Industrial Raw Materials
Plastics
Retail Merchandise
Roll Paper Products
Hermann offers full-service warehouse and distribution services including inventory management, assembly, kitting, pick & pack, transloading and cross-docking.
Launched in 1927, when Fred J. Hermann bought his first truck, Hermann Services is now entering its fourth generation of family ownership delivering supply chain management solutions that run like clockwork throughout the U.S.
For more information about Hermann Warehousing, please contact Chuck Capra, Executive Vice President Hermann Warehousing by email at c.capra(at)hermanntds(dot)com. Visit http://www.hermanntds.com or call (800) 524-0067 to learn more.