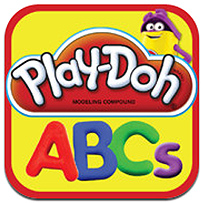 Our research shows that over 60% of parents purchase a touch screen device as a tool to assist in their children's learning and education, so it's critical to develop an app that addresses those expectations
New York, NY (PRWEB) June 19, 2013
The Creatable, Colorful, Makeable fun of the Play-Doh brand is coming to life digitally on mobile devices now. Under license from Hasbro, Inc., PlayDate Digital is introducing Play-Doh Create ABCs, the first educational app for the Play-Doh brand that incorporates Play-Doh style fun while nurturing children's pre-reading skills. As young children draw over the letter or number outline, the look of the classic Play-Doh compound will appear on the screen. It also features Play-Doh creations that help bring learning to life. Designed in collaboration with noted preschool education expert and co-founder of PlayDate Digital, Dr. Michael Cohen, the app is the first learning app from Hasbro and PlayDate Digital.
Play-Doh Create ABCs is designed to nurture children's emerging language and pre-reading skills, encourage fine motor skills and coordination, and stimulate their creativity via a series of interactive play modes that were developed from years of educational research:

Write & Craft: every successful letter made transforms into an exciting reward. When a child completes a letter, they get the chance to craft their own reward out of 'virtual' Play-Doh and save it in their personal 'Create and Share' Zone. Adding to the fun of the Play-Doh brand, should the child decide they do not want to keep their creation, they will have the ability to swipe the screen to "squish" the creation.
Create & Share: in this mode, children can enjoy all the colorful, animated objects they've created by building their own custom pictures. Parents can easily share them with family and friends using the 'Send to Camera' function.
Letter Matching: the Match button allows kids to enjoy matching the Play-Doh letters and pictures. By grouping letters with objects that start with the same sound, the activity reinforces initial letter sounds.
Play-Doh Create ABCs is intended to help kids recognize letters, write them in proper stroke order and associate letters with sounds. Parents will even be able to track each individual child's progress with the 'Parent Reporting' feature.
"Our research shows that over 60% of parents purchase a touch screen device as a tool to assist in their children's learning and education, so it's critical to develop an app that addresses those expectations," says, Dr. Cohen. "The control scheme and activity modes interact in much the same way a child explores and understands the real world, making Play-Doh Create ABCs a fun way for them to learn."
Adds Shaan Kandawalla, Co-Founder of PlayDate Digital: "We are excited to team up with Hasbro to bring the Play-Doh brand to life as an educational app that enables kids around the world to learn while they play."
"For over 55 years, the Play-Doh brand has been a rite of passage for kids. Almost every parent today enjoyed Play-Doh compound as a child, and now plays with it with their own children. We're excited to give kids a new, unique way to engage with the Play-Doh brand digitally," said Greg Lombardo, Senior Marketing Director, Global Brand Team for Hasbro.
PLAY-DOH Create ABCs for iPhone and iPad is available now on the App Store for $2.99. The Android version is scheduled for release next month.
About PlayDate Digital Inc.
PlayDate Digital Inc. is an emergent publisher of high-quality, interactive, mobile educational software for children. Headquartered in New York City, PlayDate Digital's products nurture children's emerging literacy and creativity skills by turning digital screens into engaging experiences. Designed in collaboration with leading preschool education experts from insights gleaned from years of extensive research, PlayDate Digital content is built in partnership with some of the world's most trusted global brands for kids and developed and published for iOS and Android devices. More information can be found online at http://www.playdatedigital.com, or "Like" them on Facebook and follow them on Twitter (@playdatedigital).
About Hasbro, Inc.
Hasbro, Inc. is a branded play company dedicated to fulfilling the fundamental need for play for children and families through the creative expression of the Company's world class brand portfolio, including TRANSFORMERS, MONOPOLY, PLAY-DOH, MY LITTLE PONY, MAGIC: THE GATHERING, NERF and LITTLEST PET SHOP. From toys and games, to television programming, motion pictures, digital gaming and a comprehensive licensing program, Hasbro strives to delight its global customers with innovative play and entertainment experiences, in a variety of forms and formats, anytime and anywhere. The Company's Hasbro Studios develops and produces television programming for more than 170 markets around the world, and for the U.S. on Hub Network, part of a multi-platform joint venture between Hasbro and Discovery Communications. Through the company's deep commitment to corporate social responsibility, including philanthropy, Hasbro is helping to build a safe and sustainable world for future generations and to positively impact the lives of millions of children and families every year. It has been recognized for its efforts by being named one of the "World's Most Ethical Companies" and is ranked as one of Corporate Responsibility Magazine's "100 Best Corporate Citizens." Learn more at http://www.hasbro.com.