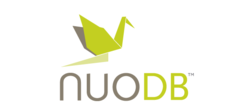 3 Steps To Migrate From MySQL
Cambridge, Massachusetts (PRWEB) June 20, 2013
NuoDB, Inc., the industry leader in NewSQL, announced a live webinar entitled "3 Steps to Migrate from MySQL" on how application developers can more easily scale their databases.
NuoDB Tech Evangelist, Wiqar Chaudry, will discuss:

Real-world use cases for migration
Overview of integration technologies for NuoDB
Demo: Using the NuoDB Migrator tool to migrate data from MySQL.
Chaudry, a database industry veteran with a background at leading companies such as Alliance Data, Pfizer and others, draws on his operational experience to explain how developers can achieve scale-out performance while maintain SQL / ACID transactions and still avoid labor-intensive, costly sharding schemes.
The webinar will be presented live at:
June 26, 2013
10 AM PT / 1 PM ET
Admission is free, however registration is required.
About NuoDB
Everyday businesses face serious challenges coping with application performance, maintaining business continuity and gaining operational intelligence in real-time.
NuoDB leads the industry with a proven NewSQL solution to solve all these challenges. It provides a unique combination of scale-out performance, zero downtime and geo-distributed data management. It's an operational DBMS to handle transactions, interactions and observations anywhere.
Launched in 2010 by industry-renowned database architect Jim Starkey and accomplished software CEO Barry Morris, the company is based in Cambridge, MA. Used by thousands of developers worldwide, NuoDB's customers include automotive after-market giant AutoZone, NorthPoint Solutions and other innovative companies.
The company is the recipient of numerous, prestigious industry awards including: Gartner Cool Vendor and The Red Herring Top 100. http://www.nuodb.com.