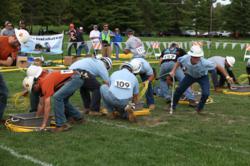 Participate and develop a mindset and skill-set of excellence and professionalism.
St. Paul, MN (PRWEB) June 25, 2013
MEA is happy to announce that the 2013 National Gas Rodeo will take place in Fairview Heights, Il from September 19-21. The men and women who work in natural gas distribution are integral parts of our everyday lives. They keep our homes warm in winter and keep our water hot. They are 'unseen heroes' who take pride in their jobs and doing the work safely. The National Gas Rodeo gives them an opportunity to shine and to discuss innovative and safe ways to do their jobs with others in the industry.
The National Gas Rodeo is expected to draw teams from utilities across the nation that see real value in letting their crews put themselves to the test. These companies believe that participating in the National Gas Rodeo can play an important role in developing a mindset and skill-set of excellence and professionalism.
The National Gas Rodeo thanks all their sponsors for supporting this event including, Case Construction Equipment and Val-Tex the premier sponsors. Without our many sponsors, this event would not be possible.
For more information, go to http://www.nationalgasrodeo.org or contact Janelle Murphy at (651) 289-9600 x109, janellem(at)midwestenergy(dot)org.
About the National Gas Rodeo:
The National Gas Rodeo is the proving ground for the elite gas crews from across the United States. The intense competition and camaraderie of the Rodeo offer competitors an opportunity to showcase their skills and professionalism. The National Gas Rodeo is proudly administered by Midwest ENERGY Association and supported by American Gas Association, American Public Gas Association, and Southern Gas Association.
About MEA:
MEA serves the people that delivery electricity and natural gas to homes and businesses. MEA (Midwest ENERGY Association) was founded as a trade association over 100 years ago by distribution utilities, whose vision was to improve safety and efficiency. Today, utility companies around the globe benefit from MEA's industry learning seminars, operations summits, and other events. Members collaborated to develop EnergyU, the world's premier online training and testing system for gas and electric distribution utilities.