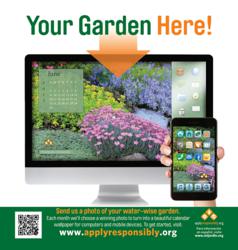 "This year's campaign offers a fun new way to remind Californians about the link between gardening and protecting the state's water."
Sacramento, CA (PRWEB) June 26, 2013
Marking its fifth year of consumer education, Apply Responsibly officials today announced a new program that allows California gardeners to share photos and download free monthly desktop calendars of Golden State gardens.
The program encourages Californians to submit photos of their water-wise gardens to a new photo gallery on http://www.applyresponsibly.org. Each month a new photo will be selected and available for free download as a beautiful desktop calendar.
"This year's campaign offers a fun new way to remind Californians about the link between gardening and protecting the state's water," said Ann Orth, a spokesperson for Apply Responsibly. "This is a timely message because not only is it the International Year of Water, but California is again facing serious drought conditions."
Since 2008, Apply Responsibly has consistently educated California consumers about the important link between responsible pesticide use and safeguarding the state's water and the environment. In past years, the Apply Responsibly effort has reached millions of Californians through media, advertising, online quizzes and community outreach.
With the new program, Apply Responsibly will select a photo each month and convert it into a wallpaper calendar available for all to download to their devices, including tablets, smartphones and computers.
Photos should focus on plants, flowers, water and other areas of a garden – ideally in a way that conveys being smart with the use of water. If selected, the picture could make one of the several desktop calendars offered on the Web site. Pictures containing images of people or pets will not be accepted for uploading to the common gallery.
"But you do not need to submit a picture to download the calendar—they are available to everyone," said Orth. "And you can subscribe to monthly reminders via Facebook, Twitter or Pinterest so you can always keep your screen fresh."
Apply Responsibly reinforces many existing guidelines and established practices, including recommendations that consumers:

Consider ready-to-use pesticides rather than products that need to be mixed if only a small area needs to be treated.
Avoid stockpiling pesticides; buy only enough for one season.
Use, store and dispose of unused pesticides according to the instructions on the product label.
Never pour any leftover pesticides down the sink, toilet, sewer or storm drain.
In addition to raising awareness about pesticides in general, the program also seeks to educate homeowners and gardeners about "pyrethroid insecticides."
Pyrethroids insecticides are used to control a wide range of insects that can infest gardens and enter the home. In most cases, consumers use pyrethroids if they have purchased consumer pesticide products intended to control unwanted insects such as mosquitoes, caterpillars, ants, spiders, garden worms, wasps, cockroaches, aphids and other insects that threaten plants, home or health.
"Just like any pesticide product, pyrethroids must be handled properly," said Orth. "By following the instructions on the product labels, consumers can keep themselves and our environment safe."
About
"Apply Responsibly" is a public awareness program funded by the Pyrethroid Working Group (PWG). Through http://www.applyresponsibly.org and educational materials, the industry alliance promotes the responsible use, storage and disposal of insecticides commonly used in the garden and outside home as a way to help protect California's water and environment. The following companies are members of the PWG stewardship effort: AMVAC Chemical; Bayer CropScience; Cheminova, Inc.; DuPont Crop Protection; FMC Corporation; Syngenta Crop Protection; and Valent BioSciences Corporation.