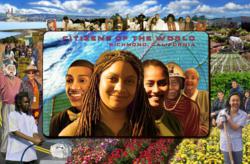 Richmond Identities: Extraordinary Lives | Ordinary People
Richmond, California (PRWEB) June 20, 2013
A new Neighborhood Public Art mural will be installed on the Richmond Senior Center, 2525 Macdonald near the Library.
The mural, a five-part history of the city, was painted by renowned artist, Judy Baca. The theme came from a series of Richmond community workshops where participants contributed family pictures, artifacts and stories. It begins with the Native Americans, travels through the land grants, railroads, and shipyards, and ends with scenes from the present into the future.
The artwork was initially painted on canvas. Then, it was digitally photographed and printed onto a biodegradable vinyl material for outdoor environments. The vinyl will be adhered to the wall with acrylic gel adhesive in a technique called marouflage. Installation should take 2-3 days.
The artwork will be 9 ½ feet off the ground, and measures 10' high by 60' long. The lettering for the Richmond Senior Center will be moved to the west side of the doorway on Macdonald to make room for the mural.