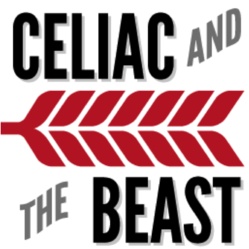 "When you are a writer, you have so much passion for story telling...now that I have a story to tell, I can finally write words that are mine and a story all of my own." says Erica
Gilbert, AZ (PRWEB) June 21, 2013
When Erica Dermer started her website Celiac and the Beast, she didn't know just how successful it would turn out to be. With almost 3,000 Facebook fans and loyal followers on Twitter and Instagram, Erica has made a name for herself in the gluten-free community in just over a year. However, as a born writer, she knew that she didn't want to stop with just a website. Erica always wanted to write a book – she just didn't know about what.
"When you are a writer, you have so much passion for story telling. I used these skills in my previous positions at advertising agencies and market research firms in writing reports for clients. But now that I have a story to tell, I can finally write words that are mine and a story all of my own."
While there are many books available to the gluten-free community, Erica feels like her unique voice and humor will not only provide an informative read, but an enjoyable read as well. Topics that are planned to be covered in the upcoming book include: getting diagnosed, mourning the loss of gluten, first-timer mistakes, dining out gluten free, dating gluten free, navigating shopping, gluten-free traveling, and how to be a gluten-free advocate.
Erica is launching a Kickstarter in July to help raise funds needed for the publication and marketing of her book.
"While I wish that I could spend my life savings and put it into publishing a book, I just can't afford to right now. But, I don't want to give up on my dream, and I don't want to deliver a book that isn't high quality either. At this point, I'm looking to crowdfund my book's publication so I can deliver a quality publication to potential readers. I've also included some great rewards to spur pledges - including our Celiac and the Beast merchandise. On top of contributing to this book, you'll be rewarded with great merchandise too!"
The Celiac and the Beast website is primarily about gluten-free product and restaurant reviews, but it also stresses advocacy in the community. They believe that the gluten-free lifestyle isn't a fad – and no one should take it as such. The apparel is not only about reinforcing this advocacy, but it's giving the celiac or gluten-intolerant person a chance to show off their new lifestyle and spur conversation.
For media inquires or to learn more about Celiac and the Beast, contact
Erica Dermer, founder, at celiacandthebeast(at)gmail(dot)com.
About Celiac and the Beast
Celiac and the Beast was inspired by Erica's favorite Disney movie, its main character, and learning to love the "beast" that is celiac disease. After her diagnosis of celiac and other related issues, she started the website as a hobby and as a way to talk about new products that she found. After early success in readership, she has relied in her past work in marketing, branding, and writing to teach others about celiac disease and to help others live the gluten-free lifestyle.
Celiac and the Beast apparel is available online at http://celiacandthebeast.com/gluten-free-shirts/ and includes a full range of apparel for adults as well as children. T-shirt sizes range from small to XXXL, are available in multiple colors and designs, and are $20 shipped. Hooded sweatshirts are available for $60 with shipping included in sizes from XS to XXXL in multiple colors. Children's shirts range in sizes from kids size XS to kids large, and retail for $18 shipped. Tank tops are available for a limited run this summer.