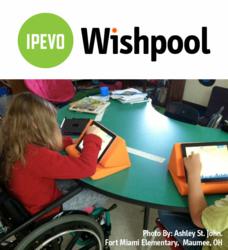 Quite simply, Wishpool came about because we believe every teacher should have access to affordable technology which can make their jobs easier and more productive.
Sunnyvale, CA (PRWEB) June 24, 2013
It started with the notion that today's teachers deserve to be empowered with technology which can help them do what they do best: teach. After six months, the Wishpool program has provided over 1,150 teachers in multiple countries with complimentary IPEVO ed tech products. And the program shows no signs of stopping as it continues to provide teachers and their students with a richer and more rewarding educational experience.
IPEVO is a designer and manufacturer of technology products with a specific emphasis on education. They have enjoyed unprecedented success with their iconic line of affordable document cameras, such as the Point 2 View and Ziggi-HD, and other products. According to IPEVO's CEO Royce Hong, the company's Wishpool program — which officially launched in January 2013 — was a way to give back to the educational community which had embraced the company and its vision of low-cost, high-value tech.
"Quite simply, Wishpool came about because we believe every teacher should have access to affordable technology which can make their jobs easier and more productive," explained Mr. Hong. "We asked educators to share their stories about how technology could assist them in their classrooms. The flood of emails we received from passionate, hard-working teachers all across the United States and around the world really showed us that the right technology can make a huge difference in the lives of teachers and their students."
To date, IPEVO's Wishpool has received over 1,900 tech "wishes" and has been able to fulfill over 1,150 of them. Selected teachers have resided in six countries — Australia, the United Kingdom, Canada, Finland, Spain and the United States — and 42 U.S. states. Here is a small sampling of teachers who have put Wishpool products to use in class:

Holly Berriman at Endy Elementary School in Albemarle, North Carolina, uses a PadPillow Pillow Stand to support assistive technology for her students in wheelchairs.
Students in Angie Godbout's South Elementary School class in Mooresville, North Carolina, use the WS-01 Wireless Station to stream math word problems which are then solved on iPads.
Wendy Comstock's second grade class at Stone Creek School in Roscoe, Illinois, used the Ziggi-HD USB Document Camera to project a baby chick hatching from a shell during an egg incubation project.
Art teacher Jennifer Impey recently demonstrated Vincent Van Gogh's unique painting technique for students using iPad and the Point 2 View USB Document Camera at Edward-Knox Central School in Russell, New York.
Music teacher Norbert Stachel at the Iconic Music Academy in New York, New York, makes use of the X1-N6 Internet Conference Station to conduct teaching sessions with teachers from around the world.
IPEVO's Wishpool program features ongoing open enrollment for teachers who can share their technology wishes and stories at no charge. Selected teachers receive complimentary IPEVO technology. Wishpool may be found on the web at http://www.ipevo.com/wishpool.
About IPEVO
IPEVO designs and sells innovative products to enrich today's connected lifestyle. We recognize the immense potential of new technologies to help people create, teach, learn, and inspire. From classroom to living room to conference room, IPEVO is dedicated to making technology more available, accessible, and affordable for all.
For more information, visit http://www.ipevo.com.