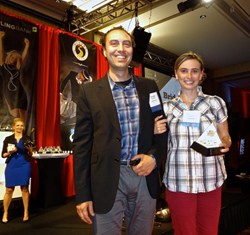 Portland, OR (PRWEB) June 21, 2013
Embodee Corp. ranks as the 15th fastest-growing private company in Oregon and southwest Washington based on its revenue increase from 2010 through 2012.
Portland Business Journal, which compiles a Top 100 list annually, announced the rankings at a gala Thursday night in downtown Portland. Private companies in all industries were considered for the honor. Embodee's revenue increased 309.8 percent during the three-year period.
The news follows Embodee's announcement last week that the company had been awarded a U.S. government patent for its unique process of creating and modeling 3D digital garments. Large apparel brands that use the process improve how they merchandise and sell products online.
"We very much appreciate the Journal's recognition," said CEO André Wolper, who founded the company in 2009. "It's a testament to our team's creativity and dedication in developing a differentiated service, which some of the world's most prominent sport apparel brands have embraced."
At the awards event, CTO George Borshukov accepted the honor along with R&D Director Isabelle Haulin.
"This is an exciting time for our company," Borshukov said. "It is great for Embodee to be visible in the Portland tech startup scene. We're very proud of what our talented and committed team has accomplished and look forward to continuing our product innovation and growth."
ABOUT EMBODEE
Embodee Corp. was founded in Portland, Ore., in 2008 to develop methods for helping the apparel industry use 3D visualizations in merchandising virtual samples and selling finished products online. Garments delivered digitally via Embodee's service (SaaS) can be turned and viewed from any angle and interacted with on any web-enabled device, including tablets and smart phones.
SOURCE: Embodee