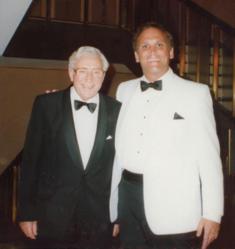 Suggesting a degree of complacency that could result in women delaying treatment of infertility is both misleading and dangerous.
Las Vegas, NV (PRWEB) June 24, 2013
Fertility Specialist Geoffrey Sher, MD responded to an article in the Atlantic Monthly that alleges that a woman's fertility doesn't decline as rapidly with advancing age as is commonly believed.
The article, written by San Diego State University psychology professor Jean Twenge, cites a study that showed that women aged 35-39 had an 82% pregnancy rate within 6 months of trying, while younger women had just a modest advantage at age 27-34 with an 86% pregnancy rate.
"I cannot believe the irresponsibility of this report," said Dr. Sher. "First, it ignores millions of data points on IVF success rates published over the last 15 years. Simply stated, live birth rates for IVF in women in their late twenties are twice that of women in their late thirties. It's a statistical fact."
He continued, "Next, and just as significant, it cites pregnancy rates, but fails to take into account the incidence of miscarriage, which is most often a product of chromosomal abnormalities. These result primarily from a progressive erosion of egg quality due to advancing age. This is why the rate of miscarriage and chromosomal birth defects like Down Syndrome increase with the mother's age."
Sher also cited his own clinic's studies that demonstrate the decline in egg quality as women age. "We have analyzed many thousands of eggs and embryos, and have substantial evidence showing that more than half half of eggs extracted from women under 35 have an irregular number of chromosomes. By age 35, about 60% are abnormal, by age 40 around 80%, and by age 45 it is above 90%. For this author to dispute all the medical evidence based on a couple of small studies and on her own personal experience in conceiving, is disingenuous to say the least."
Sher also referenced patient advocacy organizations and their efforts to educate women on fertility issues. "This article damages and discounts the progress that organizations like Resolve and INCIID have worked so hard to make in educating women about the realities of their own fertility."
He concluded, "This report does a disservice to women who have a desire to start family, and for whom time is the greatest enemy, from a medical and statistical standpoint. By suggesting a degree of complacency that could result in women delaying treatment of infertility, and could be to their detriment, it is both misleading and dangerous."
About Geoffrey Sher, MD
Geoffrey Sher, MD is a fertility specialist with more than 30 years' experience in treating men and women for fertility issues. He received his IVF training under Dr. Patrick Steptoe, who, along with Robert Edwards, was responsible for the birth of the world's first IVF baby. Dr. Sher has been influential in the births of more than 17,000 IVF babies over the course of his career and still practices reproductive medicine full time.