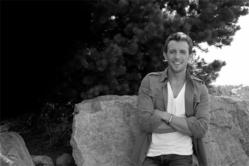 Vancouver, B.C. (PRWEB) June 24, 2013
In spite of the odds and some initial public setbacks, Vancouver-based Naked Brand is becoming one of the fastest growing names in men's underwear.
What started out in 2008 as a fledgling idea in a community fashion show in Abbotsford, B.C., has today evolved into Naked Brand Group, Inc. –a publicly traded men's underwear company, with product flying off the shelves in 157 luxury retailers across North America, including Holt Renfrew, Kitson, Boys' Co, and the Holy Grail of fashion retail: Nordstrom.
This past year, the company experienced 193% in sales growth –an impressive achievement considering it has yet to embark on a single advertising campaign.
The company's success can be attributed in large part to Naked's Founder, CEO & President, Joel Primus, whose passion, perfectionism and relentless tenacity has led the company through numerous financial setbacks and such embarrassing moments as being rejected by a panel of ruthless investors on national television show "Dragon's Den"–while wearing nothing but his underwear.
"I refuse to back down," says Primus. "I have no doubt in my mind that we are going to be one of the biggest underwear lines in the world." The ambitious leader hopes to displace Calvin Klein and become the number one brand in comfortable, luxury undergarments for the modern metropolitan male.
The company, which currently sells three lines of men's underwear, t-shirts, and loungewear, will soon be expanding to swimwear, socks, women's underwear, fragrances and bedding, positioning itself as a global lifestyle brand to be reckoned with.
The consumer and retailer response to Naked underwear bodes well for these ambitious expansion goals. Men and women alike rave about the Naked boxer brief and guysunderwearblog.com reviewed it as being in the top 1% of underwear in the world.
The garment is the result of years of research, design and development. In 2008, Primus set out to design the "lululemon pant" of men's underwear – something comfortable, modern, functional yet sexy and bottom-enhancing that a man could wear under anything. "Something that would imbue him with a quiet confidence, and make him look and feel great," says Primus. "Something classic, timeless and masculine but mostly a product that spoke to the lifestyle of the modern man."
As a former competitive long-distance runner, Primus had high standards for fabric performance, texture, and function. He tested hundreds of fabrics before selecting a fine Italian microfiber spun on 44-guage machines using distilled water from the Italian Alps.
"This fabric melts to your body, making you feel like you are wearing nothing at all," says Primus. "Yet it has a natural density and integrity that lends support, and holds its shape and colour beautifully."
Next came the design. Again, Primus tried out hundreds of design variations, tailors, and production facilities before settling on the perfect design prototype: a cut and style tailored with flat lock stitching that seamlessly follows and enhances the natural architecture of a man's body.
The most unique aspect of the design is that it eliminates the standard waistband and features very subtle branding. This is in stark contrast to most other designs on the market that boast loud, garish name branding and logos on thick elastic waistbands. "Naked underwear is about the man, not the brand," says Primus of this more sophisticated approach, where the branding is more of an after-thought, letting the garment's quality speak for itself.
Finally came the premium luxury packaging that more closely resembles a container for expensive cologne rather than underwear –setting the product apart from the flimsy cardboard packaging containing Naked's competitor brands. And at about $36 a pair, Naked is competitively priced for a premium article of clothing.
Why all this thought and detail into a pair of underpants?
Primus truly believes that underwear makes the man. "It's the first thing he puts on in the morning and the last thing he takes off at night. It sets the tone for how he will feel throughout the day. If he starts the day out with an impeccable, high quality garment, he will feel more confident and act accordingly."
Alan Greenspan would agree. The former chairman of the Federal Reserve endorses the Men's Underwear Index – an economic theory that states that men's underwear sales are an indication of where the economy is headed. When times are good and men are feeling confident and optimistic, they buy more and higher quality underwear. When times are bad, they let their underpants go threadbare or buy value packs.
The good news then for Naked Brand and the economy as a whole, is that men's underwear sales are on the rise.
Market research company NPD Group, Inc. last month reported that the men's underwear market saw one of the biggest percentage gains in the apparel markets, increasing by 13 percent from 2011 to 2012. Men's sock sales increased by 12 percent in the same period, leading analysts to proclaim, "When men buy socks, buy stocks!"
Retailers are eager to line their shelves with Naked Brand. Two and a half years ago, following a ballsy first pitch meeting at Canadian luxury retailer Holt Renfrew, Primus convinced the buyer to place an order for 900 units of product he had not yet lined up production for. He scrambled and was able to deliver, debuting the product in three Holt Renfrew locations in November 2010, just in time for the Christmas buying season. By the following Valentine's Day, Naked was one of the top 10 selling brands across all product lines, and was named to the retailer's "Velocity List" which tracks its fastest selling items.
The following year, Primus embarked on a North American road trip, driving across the continent, placing product in stores as he went. In spring 2011, a satisfied Texan boutique buyer tipped off the buyer at Nordstrom's, recommending she consider carrying Naked brand. A fateful meeting followed, and within a couple months Naked had orders for 40 Nordstrom locations across the United States.
Following the market validation from retailers like Kitson, Holt Renfrew, and Nordstrom, Primus no longer has to schlep his wares. Stores are calling him, and demand is outstripping supply.
National media have taken notice. Naked Brand has been featured on the View and Entertainment Tonight Canada, and has been written about in Esquire, Men's Health, The Fashionist, WWD and the Financial Post, among others.
While men age 16 to 60 and the women who love them are buying Naked, the core target market is the metropolitan corporate male age 25-45. The brand and design was inspired with this type of man in mind. Originally called a "metrosexual" and considered something of an anomaly in the mid-1990s, today this man –an urban male who takes care of himself– is simply the norm. He is confident and ambitious and is successful in business and with women. He takes pride in his health and appearance, and enjoys experiencing quality and luxury in the garments he wears and the products he uses.
And while Naked Brand's focus may be a man's nether regions, the company has also got heart. Primus has included elements of charity and sustainability into his company since day one. For every sale, the company donates a sales percentage to Project World Citizen, a charity that educates and empowers the children of Ghana.
Further, all fabrics used have environmental certifications. The fabric is ethically produced in Europe, and the garments are tailored and assembled in Canada.
Primus has come a long way from that first embarrassing public skewering on Season 4 of "Dragon's Den" where he was called "delusional" and sent home in his skivvies in front of 1.3 million viewers. The show where aspiring entrepreneurs pitch their business concepts to a panel of business moguls is the Canadian equivalent of "Shark Tank" in the United States. Primus was invited back for Season 6, where he could proudly state that he and his company had accomplished everything they said they would. While offers were made but no investment deal ultimately reached on the show, the Dragons were no longer so dismissive. They saw true value in the product and in the man behind it.
Venture Capitalist Kevin Oleary made an offer, calling Primus "a tenacious guy."
"I believe in the kid," said IT entrepreneur Robert Herjavec.
Fellow Dragon and founder of Venture Communication Arlene Dickenson agreed. "He's a great entrepreneur," she said. "That's a guy I'd want to bet on."
Today, Primus has partnered with Daymond John, a venture capitalist on Shark Tank, and a sought-after branding consultant, keynote speaker, author, and TV personality. John previously founded the FUBU urban apparel clothing line and grew it into a $6 billion global enterprise.
"Naked has developed a line of fashion forward innerwear that truly aligns with their name - making you feel as though you are wearing nothing at all," says John. "I'm very excited about this brand and believe that the U.S. consumers will fall in love with this premium, sexy collection of innerwear for men."
With the men's underwear line established and enthusiastically embraced by the marketplace, Naked is now turning its attention to launching its women's line and grabbing a share of the women's lingerie market, which is projected to reach $32 billion in sales by 2016.
For more information on Naked Brand, visit http://www.thenakedshop.com.
Legal Disclaimer/Disclosure: A fee has been paid for the production and distribution of this Report. This document is not and should not be construed as an offer to sell or the solicitation of an offer to purchase or subscribe for any investment. No information in this article should be construed as individualized investment advice. A licensed financial advisor should be consulted prior to making any investment decision. Financial Press makes no guarantee, representation or warranty and accepts no responsibility or liability as to its accuracy or completeness. Expressions of opinion are those of the author's only and are subject to change without notice. Financial Press assumes no warranty, liability or guarantee for the current relevance, correctness or completeness of any information provided within this article and will not be held liable for the consequence of reliance upon any opinion or statement contained herein or any omission. Furthermore, we assume no liability for any direct or indirect loss or damage or, in particular, for lost profit, which you may incur as a result of the use and existence of the information, provided within this article.