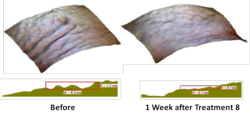 The Maximus system powered by the TriLipo Technology
demonstrated significant improvement in skin tonus, skin lift effect and wrinkles reduction.
Nikolay Potekaev, M.D., Ph.D
(PRWEB) June 24, 2013
The latest clinic results of Pollogen's Maximus system for wrinkles reduction and facial skin rejuvenation were recently published in the Journal of Cosmetics, Dermatological Sciences and Application.
The study entitled "Evaluation of Safety and Efficacy of the Maximus™ System for Facial Wrinkles " was co-authored by Nikolay Potekaev, M.D., Ph.D from Moscow Ministry of Public Health Scientific and Practical Center for Dermatovenereology and Cosmetology and Department of Skin Disease and Cosmetology of the Russian State Medical University, and Olga Zhukova M.D. – from Moscow Ministry of Public Health Scientific and Practical Center for Dermatovenereology and Cosmetology and The Peoples' Friendship University of Russia.
During the study, 20 women aged 35 - 65 received 8 weekly facial treatments using the Maximus system powered by TriLipo® Technology. Following the treatments, positive changes in skin flakiness, roughness, smoothness and wrinkles reduction were measured using Visioscan. A noticeable thickening of the epidermal-dermal layer and increased structural homogeneity were observed by ultrasound, hyperechogenicity was increased and areas of hypoechogenicity reduced. Microcirculation was improved, corresponding with a positive trend for improved skin characteristics.
Patients that were surveyed about their satisfaction from the treatment series - reported an improved thickness and elasticity (lifting effect) of skin tissue and most of them stated that they experienced reduction in facial skin color irregularities and improvement of skin complexion.
All the subjects observed that fine lines and small wrinkles as well as deep folds had been smoothed. Patients also reported a positive experience during the treatment, without pain, and described a warm relaxing sensation during and after the treatments.
According to Mr. Amichai Bar Nir – CEO Pollogen Ltd.
"Pollogen is dedicated to developing the most innovative technology that meets the highest clinical standards. We are proud that such prestigious aesthetic physicians as Dr. Potekaev and Dr. Zhukova chose to conduct this study that validates the Maximus system as a safe and effective non-invasive solution for wrinkles reduction, skin rejuvenation and a wide variety of aesthetic applications. This study serves to strengthen our commitment to creating to most advanced aesthetic technologies available".
About Pollogen:
We believe in constantly challenging ourselves to create the most advanced, effective medical aesthetic technologies and solutions. We believe in thinking differently.
In everything we do, we take a customer-centric approach by making our products user-friendly, safe and convenient. At Pollogen there is no such word as "done"; we continually perfect our solutions to provide treatments that are pleasant and effective. We believe in finding ways to develop technologies that work with the body's natural mechanisms so beautiful results are generated from within.
Pollogen is the developer and manufacturer of five revolutionary technologies under the industry premier brand names OxyGeneo™, HybridEnergy™, TriPollar®, TriLipo® and TriFractional™. We offer a full line of clinically-proven, safe and effective, non-invasive anti-aging facial and body contouring treatment platforms for a wide range of aesthetic applications. Pollogen provides solutions for professionals in over 60 countries, addressing the specific needs and dynamic changes unique to the ever-evolving aesthetic industry