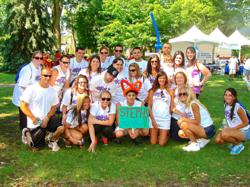 The convenience of mobile functionality adds a new depth fo our visitors an is key to our continued growth.
Philadelphia, PA (PRWEB) June 26, 2013
Rush Order Tees has recently added more options for their growing on-the-go clientele. The family-owned business has recently expanded the web functionality for customers by enhancing the site's abilities on mobile devices. The new improvements will allow customers to get a head start on their orders directly from their Android, Apple, or Windows smartphone.
The enhancements will streamline the ordering process. First, the improved functionality lets customers easily browse through the catalog with a mobile-friendly version of the website without a required app or download. Customers will be able to start designing by picking a product and the color of the item. Then they will be able to receive an instant quote for the order, can chat online with one of the company's Client Design Project Specialists or email themselves a link to design later on a Flash-enabled device or computer.
This new development to Rush Order Tee's ordering process will allow customers the ability to begin orders during meetings with clients outside of the office or for those last minute orders that are Rush Order Tees' specialty.
"We're examining options to expand the site's mobile functionality and target that audience. As we flesh out and prioritize broader sweeping options, the latest update has already proved successful adding to our visitors' experience." explained the Company's CSO, Ron Reed. "One of the Company's goals is to develop a constant and instant connection with existing and potential customers. This enhanced functionality contributes to that objective."
To explore their new features and design t-shirts online visit http://www.rushordertees.com/design-t-shirts/.
About Rush Order Tee
Since 2001, the family-run business Rush Order Tees has been has been growing to become one of the top suppliers for customize apparel in the US and Canada. The company specializes in personalized T-shirts, sweatshirts, and other clothing and accessories for corporate businesses, charity groups, schools, sports teams, and much more. While they promote "rush orders," the company welcomes all orders.