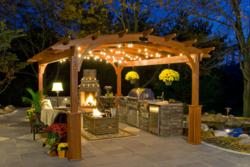 Good landscaping, including storage sheds , pergolas, pavilions, gazebos, outdoor kitchens, swing sets, or fireplaces, can add 10–25% to the value of a home.
Mahopac, NY (PRWEB) June 26, 2013
The housing market is still on the slower side. It is times like these when homeowners need to protect and add value to their homes. Investments in a house can help increase the value and aid in a faster sale in a time of need. Adding outdoor living areas to a home can increase the value and allow residents to enjoy the beautiful outdoors.
"Despite the weak economic climate, housing markets remain slow but competitive, especially between May and July, when real estate sales are at their peak," says Rolf Zimmermann VP of Sales at Best in Backyards. Whether homeowners are thinking of selling their property or just want to enhance the curb appeal, there are a number of creative improvements they can make to both protect and increase the value of their home and property.
Good landscaping, including storage sheds, pergolas, pavilions, gazebos, outdoor kitchens, swing sets, or fireplaces, can add 10–25% to the value of a home. While there are a number of different ways to increase the value of a property, one of the most cost-effective improvements is the addition of a wooden pergola or pavilion.
Hiring a professional to install a swing set or pergola may seem like an extravagance, but their expertise can bring additional equity to a home and save the owner money by recommending additional low-maintenance custom features, including vinyl materials.
"Another important factor to consider is who you hire to do the work. Some estimates suggest that a homeowner should put 10% of the value of the home into beautifying the property," Zimmermann adds. "With that much at stake, it's imperative that an outdoor kitchen or other custom work be properly constructed to achieve the desired outcome. That's why it's so important to work with a company that offers personal attention and care and has a proven track record."
Best in Backyards is the leader in outdoor leisure living in the New York and Connecticut area. With the professional expertise and experience to handle jobs of any size, from small backyard swing sets to custom pergolas, pavilions, outdoor kitchens, sheds, gazebos and more.
For more information about Best in Backyards go to http://www.bestinbackyards.com, visit one of six showrooms or call 1-800-752-9787
About Best in Backyards:
Best in Backyards is the retail arm and showroom brand of Eastern Jungle Gym, one of the leading manufacturers and suppliers of outdoor wooden swing sets. The company was founded over 21 years ago by a family with intent to manufacture high quality cedar swing sets, fit to till any backyard and last for years. The company is located in the northeastern United States with retail showrooms currently located in New York and Connecticut.