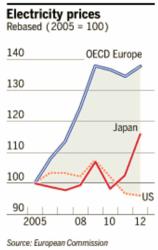 America must learn from Europe's grim experiment with climate change policies...It's clear that IPCC predictions are wrong and climate policies based on them destroy the public's faith in science
Calgary, Alberta, Canada (PRWEB) June 25, 2013
European leaders were shocked this spring in Brussels to see that since 2005, electricity prices had skyrocketed some 37% over that of the US. That led to the G8 dropping climate change from the agenda. Many EU states have cancelled subsidies to renewables or begun to tax them. Germany is building dozens of coal plants, after finding out renewables cannot supply their needs reliably or cost-efficiently.
This dramatic change is mostly due to the burden of "low-carbon" climate change policies that have driven industry offshore, crippled taxpayers, and turned voters against governments. Worse, 4,500 expensive wind turbines failed to supply any more than 0.3% power one day in winter when Britain needed it most.
"America must learn from Europe's grim experiment with climate change policies," says Len Maier, President of Friends of Science. "It's clear that IPCC predictions are wrong and climate policies based on them destroy the public's faith in science and their pocketbooks."
This winter and spring, snow storms blanketed the US and Europe in unexpected fury. Intergovernmental Panel on Climate Change (IPCC) scientists previously claimed that global warming would make snowfall "a very rare and exciting event".
"A Little Ice Age is predicted based on solar patterns. It could be the equivalent of a nuclear winter," says Len Maier, president of Friends of Science and a farmer himself. "At such a time, an abundance of carbon dioxide (CO2) would be a benefit. CO2 helps crops grow."
During the time from about 1350-1850 a "Little Ice Age" was experienced and is best documented in Europe. This coincided with a period of very low sunspot activity, frigid temperatures and crop failures. NASA reports that such solar patterns are repeating themselves right now as the sun's cycle 24 "maximum" peaks.
Meanwhile, climate models, the bedrock rationale for climate policies issued by the IPCC overestimated the warming trends in the tropical atmosphere since 1979 by a factor four. Climatologist Roy Spencer from the University of Alabama in Huntsville calls this an "epic failure for the models".
Friends of Science director Ken Gregory says, "The climate models attribute greenhouse gases as the cause of previous global warming trends when in fact climate is driven by ocean oscillations and cycles of solar magnetic flux. However, the IPCC's mandate is only to consider human causes of climate change."
The scientific evidence shows CO2 is not the main driver of temperature – there's been no global warming in 16 years despite a rise in CO2. The most recent leaked draft of the IPCC's upcoming report admits there has been no global warming in 15+ years as does the UK Met weather office. Model projections of temperature and snowfall were ridiculously wrong.
According to Maier, governments are not prepared for the food crisis that would result from global cooling - a 1 or 2 degree drop in temperature.
"Millions of acres of arable land would cease production," says Maier.
"Governments want to close coal plants to satisfy a handful of vocal global warming believers. The evidence in Europe shows this is a mistake. Spending trillions of family tax dollars trying to suck carbon dioxide from the air, is a waste when people need reliable, cost-efficient conventional power and heat," says Ken Gregory. "Wind and solar power projects are virtually useless in cold spells."
The impact of the solar magnetic flux on earth's climate has been documented by hundreds of technical papers. The total solar magnetic flux impact on climate is about seven times greater than what is expected from solar heat changes alone. History provides substantial human records of what happens to earth's climate when the sunspot activity goes into a lull.
"The original 'global warming' scare caught on because of an unusual El Nino hot weather phenomenon in 1998 and the attendant hype of Al Gore's movie," says Gregory. "Yet there is clear evidence that temperatures are slowly declining, as is solar activity."
About Friends of Science
Friends of Science have spent a decade reviewing a broad spectrum of literature on climate change and have concluded the sun is the main driver of climate change, not carbon dioxide (CO2). The core group of the Friends of Science is made up of retired earth and atmospheric scientists. Membership is open to the public.
Contact:
Friends of Science
P.O.Box 23167, Connaught P.O.
Calgary, Alberta
Canada T2S 3B1
Toll-free Telephone: 1-888-789-9597
friendsofscience.org
E-mail: contact(at)friendsofscience(dot)org