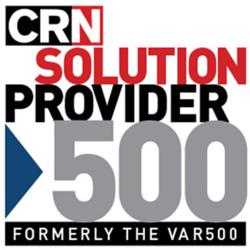 Our success has allowed us to expand our territories, portfolio of solutions and services and the verticals we serve, including Healthcare, Public Sector and Retail.
Valencia, CA (PRWEB) June 26, 2013
Nexus IS, Inc. ("Nexus") a leading national provider of professional, cloud and managed services for advanced IT solutions, today announced it has been recognized by UBM Tech Channel as a part of CRN's 2013 Solution Provider 500 list, which identifies the top technology integrators in the U.S.A. and Canada based on revenue size. Formerly known as the "VAR 500", the Solution Provider 500 (SP500) ranks the highest producing solution provider organizations in the IT channel from hardware sales, software sales, and managed IT services. Nexus placed 78th in the annual ranking, up 22 spots from 2012.
Nexus continues to grow revenues at 25% plus a year. They've expanded territories and added over 100 net new Nexus Associates over the past year. The first half of 2013 has them on track for their best year yet, surpassing the $400M goal set at the beginning of the year. "Being recognized on the Solution Provider 500 list is a great honor. I would like to thank our customers, associates and eco-system partners that make all of this possible," stated Waheed Choudhry, Nexus President & COO. "Our success has allowed us to expand our territories, portfolio of solutions and services and the verticals we serve, including Healthcare, Public Sector and Retail."
"We aim to highlight the 'best of the best' among the channel community, and the Solution Provider 500 is no exception. Now in its 18th year, this prestigious list serves as a valuable industry resource to help end users quickly identify top performers and make the most well-informed choices for their business," said Robert Faletra, CEO, UBM Tech Channel. "The companies listed have a forward-thinking approach to solutions sales. They are also highly dedicated to putting their customers' needs first to accelerate the adoption of innovative technology and drive immediate results. We congratulate Nexus for making this year's list and look forward to covering their continued success."
The 2013 Solution Provider 500 list category awards will be presented at the BoB thought leadership conference in October. A sampling of the 2013 SP500 list is featured in the June issue of CRN Magazine and is featured online at http://www.crn.com. The complete list of 500 companies will be available in the CRN Tech News app, available for iPad and Windows 8.
About Nexus
Based in Valencia, CA, Nexus IS, Inc. leverages its extensive experience and expertise to enable organizations to Connect, Collaborate, and Create. We do this by providing expertise in end-to-end technology solutions based on six distinct, yet complementary practices: Collaboration, Data Center, Borderless Networks, Managed Services, Cloud and Business Video. Nexus partners with industry leaders including Cisco, EMC, NetApp, VMware, Citrix, Microsoft and NEC to ensure its customers are provided the most comprehensive and competitive solutions. Nexus serves the private sector, from small business to the Fortune 500, and the public sector including local, state, and federal government. Additionally, Nexus has highly specialized vertical market practices including GovEd, Healthcare and retail where it has developed proprietary applications that turn unified communication into clinical workflow solutions. For additional information, please visit http://www.nexusis.com.
About UBM Tech Channel
UBM Tech Channel, a UBM company is the premier provider of IT channel-focused events, media, research, consulting, and sales and marketing services. With more than 30 years of experience and engagement, UBM Tech Channel has the unmatched channel expertise to execute integrated solutions for technology executives, managing partner recruitment, enablement and go-to-market strategy in order to accelerate technology sales. To learn more about UBM Tech Channel, visit us at http://www.ubmchannel.com. Follow us on Twitter at http://twitter.com/UBMTechChannel.
UBM plc (http://www.ubm.com)
UBM plc is a leading global business media company. We inform markets and bring the world's buyers and sellers together at events, online, in print and provide them with the information they need to do business successfully. We focus on serving professional commercial communities, from doctors to game developers, from journalists to jewellery traders, from farmers to pharmacists around the world. Our 6,000 staff in more than 30 countries are organised into specialist teams that serve these communities, helping them to do business and their markets to work effectively and efficiently.